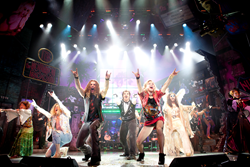 New Brunswick, NJ (PRWEB) February 25, 2014
State Theatre presents three performances of the smash-hit Broadway musical, Rock of Ages, on Friday, March 7, 2014 at 8 p.m. and Saturday, March 8, 2014 at 3 p.m. and 8 p.m. Opening night of Rock of Ages is sponsored by Doug and Diane Garback. Tickets range from $35-75.
In 1987 on the Sunset Strip, a small-town girl met a big-city dreamer—and in L.A.'s most legendary rock club, they fell in love to the greatest songs of the '80's. It's Rock of Ages, a hilarious, feel-good love story told through the hit songs of iconic rockers Journey, Styx, REO Speedwagon, Foreigner, Pat Benatar, Whitesnake, and many more.
Rock of Ages is a worldwide phenomenon with smash hit productions in Stockholm, London, Las Vegas, and still rockin' on Broadway, featuring 28 classic rock tunes including "Don't Stop Believin'," "We Built This City," "The Final Countdown," "Wanted Dead or Alive," "Here I Go Again," "Harden My Heart," "Can't Fight this Feeling," "Renegade," and "I Want To Know What Love Is."
Rock of Ages is directed by Tony® Award Nominee Kristin Hanggi (Bare, Pussycat Dolls on the Sunset Strip) and choreographed by Kelly Devine (Jersey Boys – Associate Choreographer). With a book by Chris D'Arienzo (writer and director of the film Barry Munday), original arrangements by David Gibbs (Counting Crows, Film: That Thing You Do), and the Music Supervision, Arrangements & Orchestrations by Ethan Popp (Tarzan; Europe: We Will Rock You, Mamma Mia).
Rock of Ages features set design by Beowulf Boritt (Spelling Bee, LoveMusik), costume design by Tony Nominee Gregory Gale (Cyrano, The Wedding Singer), lighting design by Jason Lyons (The Threepenny Opera), sound design by Craig Cassidy (Phantom, Mamma Mia), and projection design is by Zachary Borovay (A Catered Affair).
Rock of Ages is produced by PHOENIX ENTERTAINMENT.
For tickets or more information, call the State Theatre ticket office at 732-246-SHOW (7469), or visit us online at http://www.StateTheatreNJ.org. The State Theatre ticket office, located at 15 Livingston Ave, New Brunswick NJ, is open Monday, Tuesday, Thursday, Friday, 10 a.m. to 6 p.m.; Wednesday 11 a.m. to 7 p.m.; Saturday, 1 p.m. to 5 p.m.; and at least three hours prior to curtain on performance dates, unless otherwise specified. For information on group outings and discounts, call 732-247-7200, ext. 517. Some additional ticket and transaction fees may apply. http://www.statetheatrenj.org/
State Theatre, a premier nonprofit venue for the performing arts and entertainment. The theater exists to enrich people's lives, contribute to a vital urban environment, and build future audiences by presenting the finest performing artists and entertainers and fostering lifetime appreciation for the performing arts through education. The State Theatre's programs are made possible, in part, by funding from the New Jersey State Council on the Arts/Department of State, a Partner Agency of the National Endowment for the Arts, and contributions from numerous corporations, foundations, and individuals. The Heldrich is the official hotel of the State Theatre. Magic 98.3 is the official radio station of the State Theatre. The Star-Ledger is the official newspaper of the State Theatre. United is the official airline of the State Theatre.
STATE THEATRE
15 Livingston Ave
New Brunswick, NJ 08901
Ticket Office - 732-246-SHOW (7469)
Online - http://www.StateTheatreNJ.org
INTERVIEWS AND PHOTOS FURNISHED UPON REQUEST
Please contact Kelly Blithe at
732-247-7200, ext. 542 or by email at kblithe(at)StateTheatreNJ(dot)org.
Up-to-the-minute information on events and State Theatre news,
online at http://www.StateTheatreNJ.org.
# # #