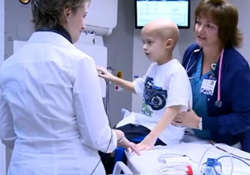 Our expectation is that he will have a good prognosis and that proton therapy will help decrease the risk of long-term effects.
St. Louis, MO (PRWEB) February 27, 2014
This month, brain tumor patient Charlie North became the first patient at St. Louis Children's Hospital to undergo proton beam therapy, a type of radiation that holds great promise for pediatric patients.
In late November of last year, Julia and Jake North of Paris, Ill., had their lives turned upside down when they received news that Charlie, the oldest of their 6-year-old triplets, had a brain tumor.
Within weeks, he had surgery to remove the tumor and began a treatment plan at St. Louis Children's Hospital.
As part of his treatment plan, Charlie began proton beam therapy at the S. Lee Kling Proton Therapy Center. St. Louis Children's Hospital offers the treatment in partnership with the Siteman Cancer Center at Barnes-Jewish Hospital and Washington University School of Medicine. It is the only proton therapy center in Missouri. Proton beam therapy is a highly accurate form of radiation therapy used to treat tumors near vital organs with greater precision, minimizing exposure to other organs and healthy tissue.
"Proton therapy is unique because it allows for very precise adjustments to the radiation beam, so we can precisely target tumors," said Jeffrey Bradley, MD, director of the Proton Therapy Center. "This helps to minimize damage to surrounding tissue and is especially useful when treating growing children."
"The proton is a major blessing for Charlie. Since he is so young, we were worried about what might be affected with radiation," Julia says. "We're so grateful it's available and can target just the tumor."
Stephanie Perkins, MD, a Washington University radiation oncologist at St. Louis Children's Hospital, has been caring for Charlie throughout his treatment.
"Charlie is my first child and my first patient to use the proton beam, and he is doing really well," she says. "The proton beam allows us the ability to treat the area that requires radiation, targeting the tumor bed, and eliminating radiation to the area around it."
He receives the treatment Monday through Friday. To help alleviate extra movement and assist with alignment, Charlie wears a specially made immobilization mask and is administered anesthesia similar to sedation given to children for MRI, Dr. Perkins explains. "Charlie is very quiet during our visits, but his mom reports that when he goes home, he's active with his siblings and doing well," she says.
"Our expectation is that he will have a good prognosis and that proton therapy will help decrease the risk of long-term effects." For a family like the Norths who already have to travel a distance from their home to see their care team and receive treatment, having the proton therapy center on campus is invaluable, Dr. Perkins says.
"In some cities, the proton beam is not near the children's hospital, and children often have to travel by ambulance for treatment," she says. "For our patients, whether inpatient or outpatient, they are here and close to their team. It's great to be integrated with our hospital."
The relatively small size of the new proton therapy system allows it to fit in a single room that isn't much larger than a traditional radiation therapy room. The cost of this single-vault proton therapy system was about $20 million, a fraction of the investment needed for traditional proton therapy systems, which typically are housed in football field-sized buildings and cost in excess of $150 million.
Charlie's proton beam therapy treatments will continue through early March, as well as his current chemotherapy treatment. He will be back in early April to begin a new chemotherapy treatment, Julia explains.
"We're so grateful for everyone here at St. Louis Children's Hospital. It's been wonderful, and everybody is so caring," she adds. "We see all of these sick children, but they are happy because of this place and the people here, it makes us want to give back, and we will."