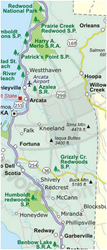 Organic growers now constitute less than 10 percent of cannabis produce
Humboldt County, California (PRWEB) February 27, 2014
Humboldt County, California, acclaimed for its old growth redwoods and large mountains, has also become recognized for another feature: high quality cannabis plants. With an average rainfall of 55 inches, high summer temperatures and low humidity, various strains of cannabis thrive in these ideal growing conditions.
Due to the success with growing cannabis this area has increasingly become recognized as its own unique appellation. The word appellation is derived from the official term, Appellation d'Origine, which was established in France for wines and later extended to foods, such as cheese. Like the term terroir, the usage of the word indicates that place, for a variety of reasons, shapes the quality of the product. With such a designation placed on a product a consumer is provided assurance that a product originated from a specific area. The term is also reserved for only the highest quality products and often governed by official bodies of experts who recognize that the location of origin has been responsible for superior produce.
The concept of appellation takes the cannabis expert beyond the simple understanding of the differences between general concepts of Indica and Sativa. While Indica and Sativa refer to specific categories, they also carry with them the recognition that they have originated from specific parts of the world. These parts of the world reveal specific climates, altitudes, soil qualities and a host of other features that contribute to the stamina, and overall effects the plant produces. Geneticists and aficionados of the cannabis plant have taken them far beyond their simple pure strains and combined a host of various genetic blends to produce desirable qualities.
Extending beyond the actual plants genetics, the specific appellation is a major contributor to features that may not be duplicated anywhere else. Consider an old growth Zinfandel grape vine that produces grapes in two distinct locations. These locations may be a mere 50 miles apart. But the soil content, temperature range, air quality and other elements will vary and contribute to distinct differences. Micro-climates for two identical strains grown in two separate regions may produce variations that are appealing to different palates. Such differences may be subtle or obvious. Nonetheless, to a discerning palate, preference is often based upon these differences.
The various appellations in the northwestern United States determine unique characteristics of a wine or a cannabis plant. These special qualities often drive consumer demand. Consumers often refer to a specific appellation when making a choice regarding a wine of distinction. When making selections regarding a cannabis purchase the appellation can also be a useful tool.
The Mad River Appellation is recognized for its high quality output of produce. Beginning in Trinity County in the Six Rivers National Forest it travels northwest toward Humboldt Bay. The landscape reflects a 47 mile long mountainous ridge, lakes and streams and a unique aesthetic of beauty. The conditions in this area are influenced by distance to the coast, terrain, altitudes, soil types and surrounding vegetation. The valleys and ridges allow for an open air flow. The coastal ridges that shield Sonoma and Mendocino are more distinct in the Six Rivers area with more irregular valleys and ridges. Several unique micro-climates exist which result in distinct flavor signatures.
However, the area is not without its problems. The sudden emergence of new industrial agriculture has had an environmental impact. Many of the new farmers use techniques other than the simpler organic methods. Some use heavy metal laden fertilizers and deplete water from small streams which are home to endangered trout and salmon.
Tony Silvaggio, a sociology lecturer from Humboldt State University said the last three years have seen huge change in the county. "Organic growers now constitute less than 10 percent of cannabis produce."
The industry is largely unmonitored. Examples of problems include the use of rodenticide and other heavy chemicals which have resulted in soil and water pollution and the deaths of several mammal species, according to Mourad Gabriel, a wildlife ecologist from University of California, Davis.
As a result of the current problems, advisory panels and oversight committees have been developed. Some growers have formed collectives to sell sustainable medical cannabis. Certification programs have begun to be implemented. Participating farmers submit their soil to laboratories to test for pesticides. Monitoring also ensures that growers are stockpiling irrigation water in ponds or storage tanks during Humboldt's rainy season. With the recent threat of the intense drought further problems regarding water availability and usage are potential serious threats.
Silvaggio said, "There is a myth out there that cannabis is eco green." For those who are concerned about the quality of the product and the impact its grow methods place upon the local area it is important to be able to secure information about the actual grow methods utilized.
To the discerning cannabis consumer the Mad River Appellation is the perfect choice for a superior quality product. Along with recognizing the appellation, a buyer may also be compelled to locate a product that has been sourced from a reputably earth and health friendly farmer.
Cannabis industry expert Dona Frank said, "Some stores develop strong relationships with producers and are able to offer a good amount of knowledge about the techniques used in the growing process. Transparency is key to obtaining a healthy and appropriate product that is emerging to be a prime goal of the ever-evolving cannabis industry."