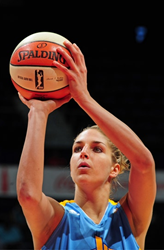 By sharing her story, Elena will be helping to educate countless Americans about the devastating impact of this disease.
Greenwich, CT (PRWEB) February 26, 2014
Lyme Research Alliance (LRA) today announced it will honor Elena Delle Donne—the reigning Women's National Basketball Association's (WNBA) Rookie of the Year—with its Star Light Award at LRA's "Time for Lyme" Gala, on April 5, at the Hyatt Regency Greenwich in Old Greenwich, CT.
"We are excited that Elena—one of the most talked-about women's basketball players in the country—will be joining us at the Gala to receive this award," said Ally Hilfiger, Event Chair. "More than 300,000 people are diagnosed every year with Lyme. By sharing her story and lending her name to LRA's campaign to fund a cure, Elena will be helping to educate countless Americans about the devastating impact of this disease, including the financial hardships that come with the battle."
Chicago Sky forward-guard Delle Donne, who was named to the All-WNBA Second Team and finished third overall in MVP voting in her rookie season, was sidelined twice by Lyme disease during her illustrious basketball career at the University of Delaware.
When she first contracted Lyme disease in 2008, Delle Donne had very little knowledge about the illness and 30 days of antibiotics knocked it out. But two years later, she experienced a severe recurrence. "At times, I was physically unable to get out of bed, suffered fatigue so extreme that I couldn't lift my arm for more than 10 seconds, had migraine-like headaches, and felt like I was dying," she said. "No doctor knew what it was." But six weeks later, with the recurrence of Lyme diagnosed, the 6-foot-5-inch Delle Donne was able to return to the court in her senior season and lead her Delaware team to its most successful season ever.
Today Delle Donne, 24, says she wants to do all she can to raise awareness of the disease and speak to Lyme sufferers. "Not only are they going through physical and emotional challenges," she said, "but the financial burden it brings to families is enormous. I hope I'll be able to inspire people to not give up, especially those who are actively battling symptoms. I know how hard of a fight it is."
In a wide-ranging interview with LRA, Delle Donne said that staying healthy is a daily battle for her. No longer on antibiotics, she takes "a lot" of vitamins and herbs, gets IV treatments, and goes regularly for massages. "I'm able to still be successful as long as I do my treatments and work with my doctor, but it's been a very long road to establish my routine," she said.
Delle Donne works out three hours daily and meets with a nutritionist to maintain her playing weight of 192 pounds. "I work out very hard—weight lifting, conditioning, playing basketball," she told LRA. "I'm a perfectionist."
Not only does Delle Donne want to be in peak health for the 34 games that the Chicago Sky play every season, but she also hopes to make the 2016 U.S. Summer Olympic team. However, Lyme disease is never far from her thoughts. "It's a crazy illness and it's always something I have to keep top of mind," she said. "It's important for anyone with Lyme to stick to their treatment, stay strong, and try not to let the disease take your life away."
LRA's "Time for Lyme" Gala, its largest fundraiser of the year, helps to fund important medical research projects. LRA is the leading private nonprofit organization funding cutting-edge research into the prevention, diagnosis and treatment of Lyme and other tick-borne diseases by universities and major medical institutions around the U.S.
The Gala is shaping up to be an exciting event with television personality Gretchen Carlson, herself a Lyme disease sufferer, serving as Mistress of Ceremonies. A veritable Who's Who list of celebrities, including actor Peter Sarsgaard; baseball Hall of Famer Tom Seaver; actress Jane Alexander; Real Housewives of Beverly Hills co-star Yolanda Foster and others, have signed on as Honorary Event Chairs.
The Gala will be held Saturday, April 5 from 6:30 p.m. to midnight at the Hyatt Regency Greenwich in Old Greenwich, CT. It features dinner, dancing and a live auction.
Ticket Information
Tickets may be purchased online by visiting http://www.LymeResearchAlliance.org and clicking on the homepage box, or by calling 203-969-1333.
---
Lyme Research Alliance, formerly Time for Lyme, is a Connecticut-based, national non-profit that funds cutting-edge research into Lyme and other tick-borne diseases. For more information, go to http://www.LymeResearchAlliance.org.