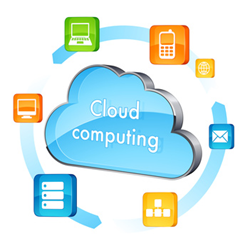 Cloud technology is changing the way we manage our lives and our businesses for the better, and that change is happening rapidly in the world around veterinary medicine.
Port Orchard, WA (PRWEB) February 28, 2014
Over the past several years "Cloud" technology has made its way into everyday activities. "It" has had many names – grid computing, software-as-a-service (SaaS), application service provision, – but most commonly known as "the cloud." Life without the common conveniences that the cloud has made available has almost become inconceivable. The Cloud has become an integrated part of everyday activities, through phones (information that is stored without using the phone's internal data is stored on the cloud), email (such as Gmail), through voice over IP (such as Skype), as applications designed to aid businesses (such as QuickBooks Online) and through social media sites (such as Facebook).
Cloud technology is changing the way we manage our lives and our businesses for the better, and that change is happening rapidly in the world around veterinary medicine.
So what exactly is this new technology and how can it aid the goal to improve animal's lives in the veterinary industry?
"The Cloud" is just a fancy way of saying that instead of downloading programs or saving files on a computer hard drive, they are stored on another hard drive (called a server) far, far away and accessed via high-speed internet. The benefit of cloud storage is that access to the files is available on multiple devices (computer, phone, smartphone, work computer, a coffee shop computer) effortlessly so that they are always available and backed up. Additionally changes to any file are synced up on all other devices.
How can the cloud benefit the Veterinary Practice?

Access medical records from anywhere. Cloud technology allows access to a patient's information from any internet- enabled device any time of the day. Whether working remotely or when medical records are needed for an emergency call, cloud technology allows the flexibility to access records when needed. This unlimited access to hospital data will lead to improved efficiency, improve patient care and improved client satisfaction.
Improved Record Collaboration. Ensure that all team members are working with the latest information by storing the data in the cloud. Staff members from multiple locations can access necessary medical records which will result in fewer medical errors and improved efficiency.
Data Security. The cloud technology saves, backups and restores your data to an off-site location. Data stored on a computer or a server is susceptible to damage, disaster (such as fire or flood), theft or the dreaded hard drive "crash". Cloud offers data protection.
Cost Effective. The infrastructure of the cloud is managed by Animal Intelligence Software. What does that mean? No need to invest in the cost of a server, program updates or expensive on-site IT consultants. Pay for the access that you need, and have the flexibility to choose the plan options that fits the practice needs.
Fast and Contemporary. Cloud technology is designed to be implemented quickly into the veterinary practice, meaning the return on the investment is realized quickly. It is also designed to grown along with a practice keeping a practice updated with the latest technology.
Cloud technology is a way to improve efficiency and reduce cost. Businesses from all industries are moving into this technology, and veterinary practices should be no different. Cloud technology is bringing competitive advantages that were once only available to those with resources to all businesses.
Animal Intelligence Software is delighted to be at the forefront in bringing Cloud solutions to the veterinary practices with our Cloud based practice management software. Our software has capitalized on efficiency by seamlessly integrating all areas of the veterinary practice.