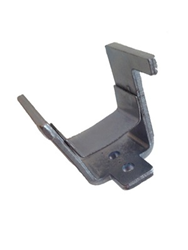 We've found a solution which shuts off broken sprinkler heads that have been completely sheared off from the wall or ceiling.
Orlando, Florida (PRWEB) March 13, 2014
There is no limit to the number of potential mishaps that can occur on a construction site or in an enclosed work space, especially when operating heavy equipment and machinery.
When that accident involves an employee breaking or activating a fire sprinkler head, the amount of damage caused in clean up, productivity and lost time can run into the thousands.
The makers of Shutgun Sprinkler Shut Off Tool have solved another problem for construction, building and facility managers who have accidentally sheared off an entire sprinkler head, by creating the Shutgun Sheared Head attachment.
The new Sheared Head Attachment, when placed onto the bottom jaw of the Shutgun, will hook over top of the broken sprinkler frame and allow Shutgun to immediately stop the flow of water with its trademark one-handed squeeze.
"Workers now have the solution in those cases when a forklift, ladder, truck bed or other heavy object has completely sheared off a sprinkler frame and diffuser from a wall or ceiling," said Greg Patterson, Engineer and Co-inventor of Shutgun.
Shutgun will be showcasing their new product along with a new Shutgun Interactive Demonstration Box at the PDC Facility Planning, Design and Construction Show from March 17 – 18 at booth #1212.
To view more accidental cases of sprinkler head disasters, visit #ShouldaHadaShutgun.
-30-
Over 15,000 Shutguns have been sold as a tool box staple for building managers, superintendents and contractors. Conceived by a Toronto District Fire Chief of 35 years, Shutgun is a one-handed, easy-to-use fire sprinkler shut off tool. Shutgun avoids shutting off the main water supply to the sprinkler system, thus giving continued fire protection to all units and has a fusible link which releases upon fire flare up or recurrence. Shutgun shuts off most types of sprinkler heads including the semi-recessed style now popular in commercial complexes.
Click on link to sign up for newsletter.