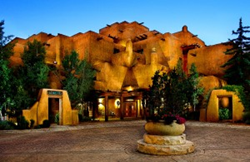 We are excited to help our guest navigate the City Different to discover the cultural treasure trove that is Santa Fe. - Dana Ortega, Marketing Director
Santa Fe, NM (PRWEB) February 25, 2014
The Inn and Spa at Loretto is excited to announce the Loretto Curators Program, offering guests of the iconic hotel insider tips to getting the most out of their time in Santa Fe. By sharing what inspires and excites them about the City Different on the Loretto website, blog and during events in the hotel's lobby, the Loretto Curators will help guests uncover the best destinations for art, food, culture and adventure. The Curators will also give guests their lists of favorite places to go and things to see, allowing guests to experience Santa Fe through the eyes of locals
A city steeped in history, art and natural beauty, travelers from all over the world seek out Santa Fe for its vibrant blue skies and rich cultural offerings. The Inn and Spa at Loretto chose notable locals to comprise the group of curators to help guests connect with the city's cherished local traditions and wide variety of attractions.
The initial four Loretto Curators will include:

"Finding your way through a new city is half the journey," said Dana Ortega, Marketing Director at the Inn and Spa at Lorett. "We are excited to help our guest navigate the City Different to discover the cultural treasure trove that is Santa Fe. We hope guests are inspired to create their own personal adventure and memories to last a lifetime."
An initial blog post announcing the program will be featured on innatloretto.com on February 25, 2014. After that, the hotel plans to launch a landing page with information about each curator, as well as begin incorporating curator events into their online event calendar and social media efforts.
Future Curator events include the following:
·Ukrainian Egg Decorating Demonstration: Saturday March 8, 2014 from 1-4pm–hosted by curator Susan Topp Weber
·Spring Gallery Hopping Blog Post (coming in March)–provided by curator Karla Winterowd
·YOLO (You Only Live Once) Vacation Package (coming in March)–includes exclusive, all-access activities with our curators
For Press Inquiries:
Jennifer Hobson-Hinsley
jennifer(at)jlhmedia(dot)com
505 603 8643