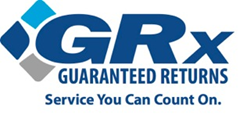 They Go Above and Beyond to Take of Customers
Holbrook, New York (PRWEB) February 27, 2014
Each year Guaranteed Returns®, the pharmaceutical returns industry founder and leader, recognizes the company's top three Regional Account Executives for outstanding service and dedication to customers.
This year's winners did an excellent job satisfying customer needs and also successfully brought new pharmaceutical returns customers to Guaranteed Returns®.
Fredy Kadva, Director of Outside Sales, said, "Congratulations to Nathan Keith and Chad Means from the Mountain Region and Ben Smith from the Southwest Region! They always go above and beyond to take care of their customers."
Nathan, Chad and Ben will be acknowledged by their peers and company management at upcoming company meetings.
About Guaranteed Returns®
For over 25 years, Guaranteed Returns® has provided pharmaceutical return services to hospital, government, independent retail, chain-store, LTC, Mail-Order and clinic pharmacies. Local GRx on-site service representatives are highly valued by customers for their professionalism, trustworthiness and for "going above and beyond."
Business review consultations, inventory management assistance and unbeatable customer service are just a few of the attributes that customers say sets GRx apart.
Contact Guaranteed Returns® at 1-800-473-2138, on LinkedIn or at http://www.guaranteedreturns.com.