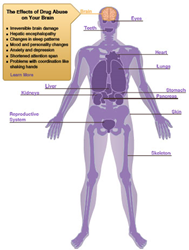 Drug and alcohol abuse will effect every part of your body.
Fort Lauderdale, Florida (PRWEB) February 27, 2014
Destination Hope, a nationally recognized addiction treatment facility in South Florida, is sending the message that treatment isn't just for your mind in two new interactive online educational tools: "The Effects of Drug Abuse on the Body" and "The Effects of Alcohol Abuse on the Body."
"Many people don't understand that drug and alcohol use will affect every part of your body," said Ben Brafman, founder and CEO of drug and alcohol rehab center Destination Hope. "From your circulatory system to your digestive system, everything you put inside of your body has an impact."
The entire body can be affected by prolonged, chronic alcohol abuse. The brain and central nervous system can suffer, as well as the skeleton, skin, and internal organs. The new interactive online tool allows users to hover over certain parts of the body to understand the potential effects of drug or alcohol use on specific body systems or organs. Users who want further information can click through a series of educational articles on the subject.
"The effects of alcohol abuse on the body and the effects of drug abuse on the body are not necessarily temporary," said Brafman, a respected behavioral health expert. "Treatment can help people reverse or stop some of this damage. It's important to help people educate themselves on what the drugs and alcohol are doing to their bodies."
Treatment at Destination Hope's drug and alcohol rehab in Florida focuses on improving clients' lifestyles, and that includes taking a close look at their health. Drug addiction can cause health problems such as heart attacks, trouble breathing, hyperpigmentation of the skin, fertility problems, tooth decay, and permanent vision loss. The new online tool allows users to explore and educate themselves on these potential problems.
According to counselors at Destination Hope, it pays to consider the role physical health plays in your recovery. Many of the health problems that arise through addiction are not reversible, but can be improved or managed through treatment.
"Taking back your life from addiction is mental and physical," said Brafman. "The effects of drugs and alcohol on your body can be severe and long-term, and they may be difficult to cope with. Of course, the earlier you seek treatment, the better your chances of maintaining your physical health."
###
Destination Hope is a full service addiction, drug, alcohol and dual diagnosis treatment facility for men suffering from substance abuse and mental health issues. Florida drug rehab treatment programs include: drug rehab, alcohol rehab, outpatient rehab, prescription drug rehab, dual diagnosis therapy to treat depression, anxiety and PTSD, family therapy programs, and aftercare. Destination Hope and its partner program, Destination Hope: The Women's Program, provide gender specific therapy in an intimate treatment environment. For more information on the center or substance abuse and addiction treatment, please go to http://www.drugrehabfl.net.