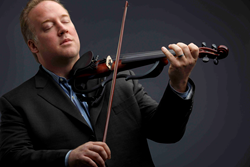 Indianapolis (PRWEB) February 26, 2014
Yamaha Electric Violin Artist Christian Howes is one of the most acclaimed jazz violinists in the United States. Christian remains dedicated to educating the up-and-coming generations of string players and teachers. Through a partnership with Yamaha, Christian will be embarking on an educational clinic tour through the end of the 2014-2015 school year. Christian will present workshops and a concert at numerous schools across the U.S., and will also offer exclusive Creative Strings Academy materials to participating teachers and students.
Christian recently ranked #1 "Rising Star" Violinist in the DownBeat Magazine Critics Poll, and was also nominated by the Jazz Journalists Association as "Violinist of the Year." In 2012, he received the Residency Partnership from Chamber Music America for his work with education outreach programs.
Christian served for three years as an Associate Professor at the Berklee College of Music, after founding his own annual Creative Strings Workshop and Festival in 2003. The annual week-long conference provides teen and adult string players an opportunity to experience a rigorous schedule of public performances, jam sessions, rehearsals, and clinics, all with a focus on improvisational music.
As the founder of the Creative Strings Academy, an online learning site, he offers a new type of curriculum to help classically trained string players develop musical creativity through improvisation, composition, harmony, contemporary styles, and music technology. Christian offers students live group lessons, private lessons via Skype, video tutorials, and more.
More dates will be added as his clinic tour continues. Up to date details can be found at http://christianhowes.com/events/.
For more information, visit http://4wrd.it/yamahaartists.
About Yamaha
Yamaha Corporation of America (YCA) is one of the largest subsidiaries of Yamaha Corporation, Japan and offers a full line of award-winning musical instruments, sound reinforcement and home entertainment products to the U.S. market. Products include: Yamaha acoustic, digital and hybrid pianos, portable keyboards, guitars, acoustic and electronic drums, band and orchestral instruments, marching percussion products, synthesizers, professional digital and analog audio equipment, Steinberg recording products and Nexo commercial audio products, as well as AV receivers, amplifiers, Blu-ray/CD players, iPod docking systems, home-theater-in-a-box systems, earphones, headphones, sound bars, and its exclusive line of Digital Sound Projectors. YCA markets innovative, finely crafted technology and entertainment products and musical instruments targeted to the hobbyist, education, worship, professional music, installation and consumer markets.
Contact: Marc Ferris/Giles Communications
(914) 798-7121 (mferris[at]giles[dot]com)