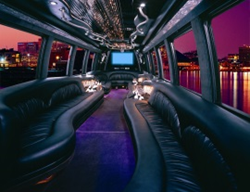 Students can also choose a twenty passenger bus, allowing for a full scale party.
Vancouver, British Columbia (PRWEB) February 27, 2014
Students will often worry about making their graduation day experience stand out. Not everyone can afford a Ferrari, but with Limo Vancouver's graduation day services, students can reward themselves for a job well done in a way that they and their friends will never forget. They might even end up being the envy of their classmates by showing up to the graduation ceremonies in a luxurious limousine!
The company offers graduation limo Vancouver services that are both upscale and affordable, keeping exclusivity in mind as well. The perfect graduation experience for a student is now a possibility, and arriving to a special event in one of Limo In Vancouver's vehicles will cause a stir.
Limo in Vancouver Graduation Services - Mixing Style with Affordability
Limo in Vancouver is a company that understands every student's wish perfectly and offers limousine services that put the limelight where it deserves to be. Graduation Limo Vancouver services provide a variety of stretched luxury cars and SUVs to choose from. Students can also choose a twenty passenger bus, allowing for a full scale party.
All the vehicles in the company's fleet are fitted with modern equipment, large and comfortable seats and built-in mini bars. Each car itself is the latest model and well maintained to ensure a satisfactory graduation limo Vancouver experience.
About Limo in Vancouver:
Limo in Vancouver offers a wide variety of luxury limousine and transportation services in the Vancouver region. The company offers affordable luxurious transport for the discerning Vancouverite looking to add something special to their nights out.
The company also regularly puts out special deals and offers relating to all of its offerings, which now include airport transportation, graduation day, birthday parties, concert and event transportation, wedding transportation and others.
Further information regarding the special offers and deals can be found at http://www.limoinvancouver.com.