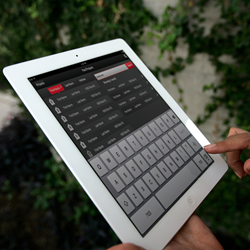 "ProScope® streamlines the inspection and estimate process unlike any other mobile takeoff app of its kind."Eric Hansen, Directory of Technology
DENVER, Colorado (PRWEB) March 04, 2014
Scope Technologies, the industry-leading provider of remote measurements, announces the launch of ProScope®. This mobile application uses unparalleled technology and a simple interview process to compile the condition and specific data of a structure's roofs, siding, gutter systems, and windows into one easy-to-read report, saving time and money for contractors and adjusters while allowing them to order a RoofScope® Report within the app.
"ProScope® streamlines the inspection and estimate process unlike any other mobile takeoff app of its kind," says Eric Hansen, Directory of Technology at Scope Technologies. "Home assessors now have a digitized and standardized construction takeoff reporting method that didn't exist previously. Instead of going back to the office to manually compile information and upload hundreds of photos for a report, simply answer a few questions in the app, and you'll have a concise report generated for you while you're on your way to your next customer's site."
ProScope® was strategically developed through an extensive user experience and interface discovery phase, where Scope Technologies' user experience and user interface experts identified and capitalized on the needs of intended users to create a streamlined, sectionalized experience to make the home assessment process as easy as possible. The app takes the user step-by-step through the takeoff process, increasing consistency in measurements, reducing the margin of error and eliminating the risk of leaving out any data. Using ProScope®, contractors, project managers, crew leaders, claims adjusters, inspectors, or insurance companies simply answer a few questions about the structure, take pictures, then receive a concise ProScope® Report that includes all essential information, within minutes of opening the app.
Designed specifically to increase business and save time for the professional, ProScope® Reports will simplify the project planning process, allowing contractors to buy materials, provide estimates, or share data with customers, insurance companies and any other interested parties at a quicker pace and in a more accurate and organized manner. Instead of losing money from ordering excess materials and losing time creating reports from scratch and making punch runs, contractors can increase their returns on investment by spending more time, money and energy on pursuing new opportunities. With sections for inputting additional information, such as insulation thickness and hail dent size, this construction takeoff software also helps determine if supplementary services are needed, further increasing sales opportunities.
ProScope® is available for iOS and Android devices. ProScope® Reports can be accessed via the app, and a clean, easy-to-read PDF version can effortlessly be downloaded from the ProScope® website. If aerial imagery is needed, RoofScope® Reports can also be ordered and downloaded through the ProScope® app.
About Scope Technologies
Founded in 2011 to help companies expand their businesses, Scope Technologies uses advanced mobile and cloud technologies to provide tools that help streamline processes with the ultimate goal of improving businesses' bottom line. The Denver-based company's visionary leadership, engineering and programming teams develop Scope Technologies' state-of-the-art systems and programs for use in the cloud for optimal delivery and growth.
###