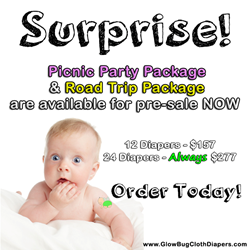 Barrie, ON (PRWEB) February 26, 2014
Sarah Downey and Neta Talmor of Glow Bug Cloth Diapers have been eagerly awaiting the launch of the new Glow Bug Cloth Diapers collections for the past several months and now the day has finally arrived. They began working on the new collection in the fall of 2013 with the idea to involve their fans in the decision making process. Downey and Talmor had their fans vote on prints to help them determine the trendiest and most popular themes for 2014. Nautical diapers, floral patters, chevrons and mustaches topped the list as some of the hottest trends according to the Glow Bug Cloth Diapers fan surveys. The release date for the new collections was scheduled for March 1st, 2014.
The surprise came in the morning on March 26th when Glow Bug Cloth Diapers decided to start a pre-sale of the new collections 3 days before the official launch date. Fans were very excited to hear the news and began commenting on the posts and sharing them through social media.
Glow Bug Cloth Diapers will be launching more packages of cloth diapers in the near future including a yet to be named package that will be launched on April 1st, 2014.
Glow Bug Cloth Diapers is based out of Barrie, Ontario and has been in business since early 2011 manufacturing and selling cloth diapers. Glow Bug Cloth Diapers us best known for offering cloth diapers that are high-quality, easy to use, fashionable and affordable. Glow Bug Cloth Diapers fit babies from newborn to potty training so you never have to buy diapers again, making them high-quality yet cheap cloth diapers.