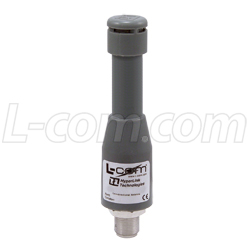 "The HGV series antennas have provided our customers with years of reliable service in indoor and outdoor applications," said Kenneth Burgner, Product Manager.
North Andover, MA (PRWEB) March 13, 2014
L-com, Inc., a designer and manufacturer of wired and wireless connectivity products, has added new HyperLink® brand dual band Omni directional antennas for the 2.4/4.9-5.8 GHz frequency bands. They are small, lightweight, indoor/outdoor rated, yet cost as little as $37.95 US each. The new HGV series antennas are economical yet maintain the high performance standards that the HyperLink® brand is known for.
These compact and lightweight dual band antennas are ideally suited for IEEE 802.11a, 802.11b, 802.11g, 802.11n and 802.11ac wireless LANs, Homeland Security/Public Safety bands and other multipoint applications where wide coverage is desired or multiple frequencies are available for use. The antennas feature durable UV-stable machine gray fiberglass radomes, as well as vented end caps and drain holes in the base to help prevent moisture build-up inside the antenna. These features allow the antenna to be mounted in an up or down position.
The three new models include the HGV-2458-03U (3 dBi), HGV-2458-05U (5 dBi), and HGV-2458-07U (7 dBi). Each antenna ships with a mast mounting kit for masts up to 2.0" in diameter.
"The dual band design of these new HGV antennas eliminates the need to purchase different antennas for each frequency. This simplifies installation since the same antenna can be used for a wide array of wireless applications," said Kenneth Burgner, Product Manager. "The HGV series antennas have provided our customers with years of reliable service in indoor and outdoor applications."
For more information about this release, please contact:
Peter McNeil, Product Marketing Manager
978-682-6936 x1450, mailto:pmcneil(at)l-com(dot)com
L-com, a global designer and manufacturer of wired and wireless connectivity products, offers a wide range of solutions and unmatched customer service for the audio/video, OEM, military/aerospace, IT, and wireless RF industries. The company's product portfolio includes cable assemblies, connectors, adapters, computer networking components, and custom products, as well as the HyperLink® line of wireless antennas, amplifiers, filters/splitters, lightning protectors, weatherproof enclosures, and much more. Trusted for more than 30 years, L-com, Inc. is headquartered in North Andover, Massachusetts, USA, and is ISO 9001: 2008-certified. For more information, please visit: http://www.L-com.com/