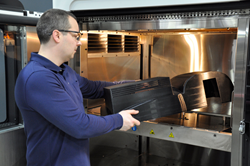 For healthcare OEMs, additive manufacturing will revolutionize the design, prototyping, and manufacture of parts and assemblies
Milwaukee, WI (PRWEB) March 06, 2014
Granite MEDSystems, a global healthcare design and manufacturing firm, announced today its new additive manufacturing (3D printing) service offering. This allows healthcare OEMs to leverage the increasing benefits and savings of additive manufacturing for the production of controlled, custom designed medical components.
"For healthcare OEMs, additive manufacturing will revolutionize the design, prototyping, and manufacture of parts and assemblies," said Clint Hanson, vice president of operations, Granite MEDSystems. "The time and cost savings of this technology when compared to traditional manufacturing methods can be significant. Imagine producing a low volume of consistently high-quality parts without a capital investment. Or, making design changes during production, and receiving the modified parts in days instead of weeks—without incurring significant costs. We're excited to combine this amazing technology with Granite's healthcare industry expertise and ISO 13485 certified environment, to discover, side-by-side with OEMs, the extent of what's now possible."
In addition to additive manufacturing services for parts production, Granite provides healthcare OEMs with value-added services from a single ISO 13485 certified source, including: higher level assemblies; final assembly and test; inventory management; consolidation and shipping; custom support engagements; and, global supply chain solutions.