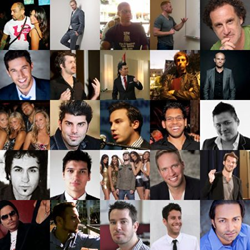 (PRWEB) February 26, 2014
How to Pick Up Girls - an interview put together by PickupMetrics.com has sought answers to picking up girls from 32 of the world's greatest pick up artists and dating coaches. The interview gathered some of the best minds in the pick up community to create an extensive "how to" guide tackling some of the most challenging pick up scenarios all in one place.
It is the first group interview of its kind and featured a number of world famous pick up artists including Ross Jeffries, Beckster, Jon Sinn, Steve Jabba, Cajun, Speer, Mehow and Bobby Rio.
The 32 pick up artists were asked to share 3 pieces of advice they'd typically give to a student before he attempts to pick up a girl in situations including on the street, beach, in bars and on dance floors. The group dynamics of each situation varied from scenarios where a girl is on her own, with one friend, or in a large group. This was to encourage a diverse mix of responses from pick up artists who specialize in picking up girls in either daytime or night time scenarios.
Both a mixture of broad and situation specific advice emerged from the interview. The broad advice, which applies to almost every situation, included the need to hold constant eye contact, have fun, not to focus on the outcome and build a connection.
PickupMetrics.com looked for common trends in advice from each of the different situations and found the most unanimous situation specific advice in the "how to pick up girls on the street" section. 85% of the pick up artists recommended being direct as one of their 3 key tips to picking up girls on the street. Being direct means no beating around the bush with opinion openers or asking for directions, but instead being authentic and clear with one's intentions, e.g. "Excuse me, I know that this is really random for the street, you're probably heading home from work or something, but I just walked right past you and I thought, WOW I have to go back and talk to that girl."
Although being direct was recommended regularly throughout each of the other situations, (with 50% of pick up artists mentioning it in total), it was most apparent in the "on the street" section, revealing a distinct difference between the pick up techniques of night and day game.
Other trends in situation specific advice appeared in the "how to pick up a girl who's in a large mixed group at a bar" scenario, where the majority of pick up artists stressed the importance of not ignoring the girl's friends and in the "how to pick up girls on the dance floor" section where almost every expert said the key thing is to have fun, enjoy dancing with your friends and the girls will gravitate towards you.
As well as being a free resource for teaching men how to pick up girls in a variety of situations, this 15,000 word guide doubles up as a gateway to helping those who are serious about learning pick up to discover how the pick up artists can help them master the art of seduction.
PickupMetrics.com is a blog that aims to help men improve their pick up skills by seeking answers from pick up artists, female dating experts and single women through surveys and group interviews. The insights and data from the surveys and interviews are then measured to create "metrics infographics" that teach men how to attract, seduce and pick up women. To read the full interview where 32 pick up artists share tips on how to pick up girls visit the following web address: http://www.pickupmetrics.com/how-to-pick-up-girls/.