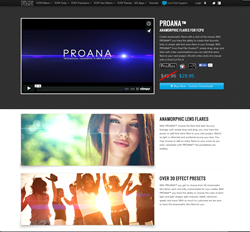 Proana can easily be dragged and dropped to add anamorphic flares to any footage and they are customizable, perfect for all users
Aliso Viejo, CA (PRWEB) February 27, 2014
Final Cut Pro X plugin developers, Pixel Film Studios, announced the release of Proana, anamorphic flares for Final Cut Pro X.
"Proana can easily be dragged and dropped to add anamorphic flares to any footage and they are customizable, perfect for all users," said Christina Austin, CEO of Pixel Film Studios.
With Proana users can choose the flare that best fits the footage, with a simple drop and drag, editors can add that extra flare to any project. Light is refracted and scattered across the lens. Users can choose to add as many flares to the scene as wished, remember with Proana the possibilities are endless.
With Proana users choose from 36 anamorphic lens flares, each one fully customizable. With Proana editors have the ability to choose the color of each light and light shapes, light intensity, falloff, refraction speed, and more.
With Proana users have the ability to simply drag and drop one of the anamorphic flares on top of the footage and easy control its position with a click of the mouse. Use the on-screen controls and easy-to-use parameters to keyframe the position of the flare all within Final Cut Pro X.
Proana was designed by the team at Pixel Film Studios to work seamlessly inside Final Cut Pro X. Proana can help you create that futuristic look, or add a little extra mood lighting to your footage in your next Final Cut Pro X project.
Established in 2006, Aliso Viejo, California-based Pixel Film Studios is an innovative developer of visual effects tools for the post-production and broadcast community. Their products are integrated with popular non-linear editing and compositing products from Apple FCPX. All Apple, the Apple logo, and Macintosh are registered trademarks of Apple Inc. in the U.S. and/or other countries. All other trademarks and trade names are the property of their respective owners.