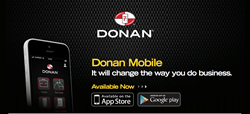 Louisville, KY (PRWEB) February 28, 2014
Interapt is pleased to announce the launch of the Donan Mobile app, developed in partnership with Donan as a free mobile tool that enables adjusters and claim handlers in the field to quickly, efficiently, and accurately document conditions during inspections. Since 1947, Donan has been known as a reliable full-service forensic investigation firm, one which now specializes in forensic engineering, fire investigation, component testing, and lightning investigation.
The Donan Mobile app, available both for iPhone in Apple's App Store and Android in Google Play, offers innovative features that not only allow users to compile, save, and send investigation notes from their mobile device, but also to access Subroscore, Donan's proprietary resource for identifying subrogation potential in the field in real-time. Among other features, the Donan Mobile app includes a Roof Guide and a Toolbox for taking photos and measurements with your device's camera while viewing an on-screen pitch gauge, multi-directional level, ruler, and a compass.
Interapt CEO Ankur Gopal enjoyed working together with Donan on the project. "The Donan Mobile app is an example of exactly why Interapt was founded," said Gopal. "We're in the business of making our clients high-tech by using our expertise in cutting-edge technologies to enhance their products and services. Donan's on the forefront of innovation in their industry, and we're happy to partner with them."
About INTERAPT:
Interapt is a mobile software development firm dedicated to building and maintaining mobile solutions for any size business. Specializing in iPhone and Android app development, desktop and mobile web development, mobile app and web design, SMS, analytics and push notifications, Interapt is a one-stop shop for businesses to execute their mobile strategy. Interapt services take advantage of the latest technologies and provide clients with an unprecedented level of customer and employee interaction. To learn more about Interapt, visit http://www.interapthq.com.