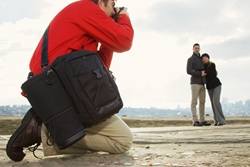 Seattle, Washington (PRWEB) February 26, 2014
The BX2 Pro Camera collection was designed in collaboration with professional photographers with the goal of accommodating the complex, technical needs in the daily lives of professional photographers. The collection was created in partnership with professional photographer and founder of Boda lens bags, Jim Garner.
Jim Garner says about the collection, "I'm excited about the recent collaboration with our friends at Brenthaven. Together we have created the ultimate evolution of the Boda lens bag."
The BX2 Pro Shooting Bag, equipped with optional hip and shoulder straps, is optimized for comfort and functionality. When worn around the waist, the lid of the bag folds over and functions as a hip pad while working so extra lenses are always within arm's reach. When clouds roll in, the magnetic closure weather cover can be deployed and stowed with one hand so that gear is kept dry and shooting momentum is uninterrupted.
In keeping with Brenthaven's legacy for protecting digital technology, the BX2 Pro Shooting Bag provides stellar protection for camera gear. BX2 Xtreme Foam runs throughout the bottom of the bag for unmatched drop protection, and the plush interior liner protects gear from scratches. The dual function lid snugly secures equipment when the bag is closed. To ensure the perfect shot is always within reach, the bag accommodates a DSLR body with grip and large lens (70-200 mm) attached. For added capacity, modular side loops enable the attachment of a BX2 Pro Expandable Lens Cases on one or both sides.
The BX2 Pro Expandable Lens Case works in conjunction with the Pro Shooting Bag and is a great addition for photographers who want to quickly add capacity to their shooting bag. The case accommodates a large lens (70-200 mm) with hood reversed when not expanded, and comfortably fits a large lens with hood attached when expanded. Camera gear is kept snugly protected with BX2 Xtreme Foam, plush liner, and anti-scratch protective foam under the lid. The Lens Case attaches to the BX2 Pro Shooting Bag with a modular secure lock system that seamlessly integrates the two bags.
The BX2 Pro Camera collection will be featured at the upcoming Wedding and Portrait Photographers International (WPPI) Exposition this year.
Price and Availability
The BX2 Pro Shooting bag is available for $149.95 and the Expandable Lens Case for $39.95 including free shipping. The BX2 Pro Camera collection will be available online and in Brenthaven retail stores beginning in mid-March. All products feature a 100% Lifetime Guarantee and are crafted from high quality durable materials, built to last.
About Brenthaven
Headquartered in Seattle, Washington, Brenthaven is the leader in the design and manufacture of premium protective cases for mobile technology. Visit http://www.brenthaven.com for more information or check us out on Twitter @brenthavennews and Facebook.com/brenthavennews for access to special deals on Brenthaven products. For Customer Service call (800) 803-7225 or email info(at)brenthaven(dot)com.