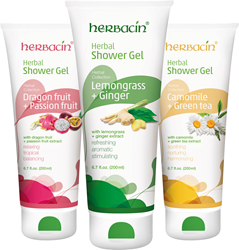 Dallas, TX (PRWEB) February 26, 2014
Family owned and operated German beauty company, Herbacin®, has recently announced the US launch of their new Herbal Shampoos, Conditioner and Shower Gels. Featuring the company's new colorful brand graphic, the line has a fresh, vibrant look, color coded to represent the primary ingredient and the containers feature an easy to open push tab. With refreshing, subtle scents, this new line features natural herbal extracts and plant based botanicals.
"We're excited to introduce this line, which not only offers a variety of unique scents and herbal benefits, but these are the first products to feature our new graphic imagery," commented Stephan Thien, "As a beauty company that has been around over 100 years, we are always looking to offer our customers the finest products with ingredients that are great for skin and hair."
Shampoo + Conditioner
The Herbacin® Herbal Shampoos and Conditioner are available for different hair types—from normal, to oily, to damaged. Each Shampoo offers different scents from the active, herbal ingredients, which have been selected for their various benefits. They come in a 8.3 fl oz. bottle and will retail for $7.99.

Volume Shampoo: Formulated for normal hair, this shampoo is enriched with natural extracts from mango, ginkgo leaves and chamomile flowers. This shampoo nourishes the scalp and gives fine and normal hair a boost of energy, bounce and fullness. It gently cleanses and moisturizes hair without weighing it down, while restoring the natural shine. Vegetable glycerin and citrate gently helps re-dehydrate hair follicles.
Balance Shampoo: Best for oily hair, the active ingredients are natural extracts from ginger root, lemon balm and birch. It helps regulate the amount of oils that the scalp produces and prevents future oiliness and excess sebum. It also restores the natural pH-balance of the scalp for fullness and strength, keeping hair healthy looking.
Care Shampoo: For damaged hair, this shampoo is enriched with melon, bamboo shoots and hops extracts. It gives dry and damaged hair perceptibly new strength and more body, without weighing hair down. It also restores natural shine.
Care and Protection Conditioner: A conditioner with Provitamin B5 has natural extracts of melon, lotus blossoms and aloe vera. It gives damaged hair a new silky shine and delightfully supple feel. Its uniquely rich plant-powered care formulation strengthens hair from root to tip. Special carbohydrates from sugar melon and aloe vera provide a natural protection against dehydration. A conditioning complex with almond oil, argan oil and arginine makes hair noticeably softer and easier to manage.
Shower Gel
The Herbal Shower Gels from Herbacin® actually boast benefits for both body and hair. The three scents not only smell delicious, but use natural extracts that offer a variety of healing properties and benefits to the skin. All formulations preserve the pH-balance of the skin, ensuring both natural protection and a relaxing shower experience. Each comes in a 6.7 fl. oz. container and will retail for $7.50.

Dragon Fruit + Passion Fruit: Enriched with extracts from ripe dragon and passion fruits, which are valued in natural medicine for their essential antioxidants, vitamins and minerals.
Camomile + Green Tea: This shower gel combines chamomile and green tea, which are beneficial for their healing properties.
Lemongrass + Ginger: The extracts from lemongrass and ginger are used for their aromatherapy and stimulating effects.
Herbacin® has been producing pure and natural formulations for more than 100 years—always using the finest sustainable herbs and botanicals their products have stood the test of time. The new Herbal Shampoos, Conditioner and Shower Gels are available on Drugstore.com, as well as select natural health food stores and boutiques across the country.
For full samples of the new Herbacin® Shampoos, Conditioner and Shower Gels, please contact, Leesa Raab, Leesa(at)Adinfinitumny(dot)com, 212.693.2150 x314
About Herbacin®
Founded in the heart of Germany in 1905, Herbacin® created a very distinctive brand early on, that to this day reflects its collaboration with nature. By sourcing the very best organic ingredients this trusted brand has become well-known for formulas that work. The original Herbacin® hand lotion is still a beloved product and women around the globe instantly recognize its distinctive green packaging.
This European botanically-based skin, hair and body care line is highly regarded for its commitment to product excellence and integrity. All Herbacin® products are produced at the company's facility in Wutha-Farnroda, Germany and undergo dermatological testing to ensure purity and efficacy.
The full line includes: Herbacin® Kamille Green Line, Wuta® Kamille White Line, Herbal Facial Care, Herbal Hair Care, Herbal Shower Gel, Herbal Aroma Bath, Herbal Bath Sensations, Wellness Baths & Shower gels, and the latest Foot Care Line.
Herbacin® products are available in 40 countries worldwide.