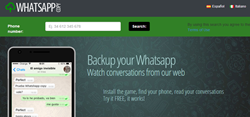 WhatsApp was recently purchased by Facebook for 19 million dollars, a high price to pay for an inherently insecure application
(PRWEB) February 25, 2014
WhatsApp was recently purchased by Facebook for 19 million dollars, a high price to pay for an inherently insecure application. All of the estimated 450 Million active WhatsApp users remain vulnerable to having their entire conversation histories stolen by malware that reported in December of 2013.
WhatsAppCopy.com steals the entire conversation from WhatsApp users, including contact photos and shared photos, and uploads the stolen information to WhatsAppCopy.Com. All stolen conversations are searchable by the victim's phone number and an abbreviated message history is publicly displayed. WhatsAppCopy sells the victim's full conversation history, including photos, to any paying customer.
James Green, security expert for Armor for Android, has been monitoring the WhatsAppCopy servers for several months and has the number of victims triple since it was first reported. Multiple attempts have been made to contact WhatsApp, and now Facebook, to address the security issue but no response has ever been received.
Facebook creator and CEO Mark Zuckerberg predicts that the WhatsApp user base may exceed 1 billion in the coming months. WhatsApp users are placing an incredible amount of trust in a company that has failed to patch a well publicized security vulnerability in three months.
For more information on this story please visit: http://armorforandroid.kinja.com/450-million-whatsapp-users-vulnerable-to-malware-report-1530691363?rev=1393351920.