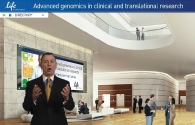 Yorba Linda, CA (PRWEB) February 25, 2014
Thermo Fisher Scientific has developed a webinar learning series in support of Rare Disease Day 2014 to help researchers stay updated on the most recent developments in sequencing technologies. The series, "Rare Disease Day 2014," will take place Feb. 28, 2014 at 8 a.m. PST. This event will bring together translational researchers, laboratory professionals and Thermo Fisher scientists from around the world to learn about these technological advances.
Agenda:

Panel Presentation and Discussion – Research regarding Universal Newborn Screening for Severe Combined Immunodeficiency: This panel of experts includes Anne Comeau, PhD, Deputy Director of the New England Newborn Screening Program and Professor of Pediatrics, University of Massachusetts Medical School; Jelili Ojodu, MPH, Director for Newborn Screening and Genetics at the Association of Public Health Laboratories (APHL) and Project Director for the Newborn Screening Technical assistance and Evaluation Programs (NewSTEPs); and Mei Baker, MD, Associate Professor in the Department of Pediatrics, and Co-Director in the Newborn Screening Labora, University of Wisconsin School of Medicine and Public Health .
A Comprehensive Array of Gene Research Panels Targeting Rare Inherited Disorders: Corina Shtir, PhD, is Director of Population Genomics and the Boston site leader for the Enterprise Genomics Solution (EGS) Team at Life Sciences Solutions, Thermo Fisher Scientific. She leads the Research & Development, Data Analysis and Interpretation of the EGS scientific group.
Whole Exome Sequencing in Clinical Research Using the Ion Proton™ Sequencer for Detection of Relevant Variants in Rare Disorders: Christian Marshall, PhD, is the Associate Director for Genomic Analysis at the Centre for Genetic Medicine , Department of Pediatric Laboratory Medicine, The Hospital for Sick Children.
Conference participants will be able to attend interactive live streaming video sessions, have their questions answered in real-time by these industry experts, browse a virtual Life Technologies™ booth, and earn free Continuing Education credits. This conference offers a unique opportunity as it is free to participants, and there will be no out-of-pocket expenses for travel. However, participants will still benefit from interacting with a global community of like-minded colleagues, without leaving the comfort of their office or home.
Ion Torrent products are For Research Use Only. Not for use in diagnostic procedures.
A full agenda and speaker bios can be found here.
About BioConference Live:
Founded in 2009, BioConference Live's vision was to connect the scientific world leveraging a unique virtual platform, discovering meaningful collaborations across geographic boundaries and fields of expertise. BioConference Live has grown into the world's largest producer of virtual events within the Life Sciences community. LabRoots is the owner and producer of BioConference Live, and is the leading scientific networking website designed to connect all science verticals. For more information, visit http://www.labroots.com or follow them on Facebook, Twitter, LinkedIn, or Google+.