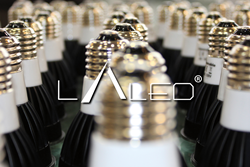 Another milestone in the industry after building and housing over $1,000,000 in inventory. This milestone makes LA LED's in-stock inventories one of the largest in the countryble
Lafayette, LA (PRWEB) February 26, 2014
LA LED CEO, Robert Owens, announced that after nine years of research, design and LED development, the company has achieved another milestone in the industry after building and housing over $1,000,000 in inventory. This milestone makes LA LED's in-stock inventories one of the largest in the country and Owens is now building more new commercial and residential products that he wants to bring to market.
Part of their ongoing strategy to remain one of the largest and fastest growing in the industry is the establishment of partnerships with retail locations, custom builders and corporate clients. LA LED creates multiple applications for both residential and commercial units; all of which is available for immediate distribution. To strengthen its company profile, LA LED is seeking electrical supply houses and resellers with which to partner throughout the United States.
LA LED offers many residential lights as well as many commercial products, like LED tubes, to replace fluorescent lighting in grocery stores, office buildings or any location that currently utilizes fluorescent tubes. These lights will work in existing fixtures and reduce electricity by 50% and last 75,000 hours, or typically 15 years, in the average office building.
"After spending almost a decade perfecting my LED lights, I decided my product was good enough to put my money where my mouth is. I had been unwilling to invest large sums in my product until I knew that it was the best," said Owens. "I felt that I should wait until I knew the product would have no risk of being returned as a failure. I was not about to risk customer dissatisfaction. I am completely confident we have reached that threshold of reliability and this investment in our product gives us one of the largest in-stock inventories in the USA for LED lighting. We will continue to build this inventory throughout 2014."
For more on the residential and commercial products developed and created by LA LED, visit http://www.laledus.com.
About LA LED:
LA LED started in 2005 as a means to an end. After Hurricanes Katrina and Rita, founder Robert Owens received a $320 electric bill plus a $2800 fuel surcharge by the electric power company. After discovering LED lighting, he realized it was the future. What began as one man's vision has grown into an international phenomenon with dealers, vendors and business partners from Canada to Mexico and from Asia all the way to Europe.