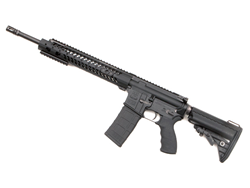 'We at Adams Arms are extremely proud to work with the Pasco County Sheriff's Office to provide them with rifles that meet their needs in serving our community.'- Mike Froning, President & CEO
Odessa, FL (PRWEB) February 27, 2014
To help keep Pasco County safe, the Pasco Sheriff's Office recently purchased one hundred Adams Arms 16" Mid Tactical Evo Rifles from local gun manufacturer Adams Arms. The rifles were purchased with federal forfeiture funds that came from money and goods confiscated from criminals. The Sheriff's Office plans to use the rifles in dangerous situations that call for added firepower against armed adversaries.
Making the move from Pinellas County to Pasco County in 2012, Adams Arms is happy to provide their local Sheriff's Office with firearms that will protect the citizens of Pasco, Florida. "We at Adams Arms are extremely proud to work with the Pasco County Sheriff's Office to provide them with rifles that meet their needs in serving our community. These heroes deserve the very best tools available and knowing they will be using our rifles is a great source of pride and gratitude for our entire organization," says Mike Froning, President & CEO.
The Mid Tactical Evo Rifle fires a 5.56 x 45 mm round. Weighing in at 7 pounds, this ultra light rifle uses the patented Adams Arms gas piston system delivering superior performance with lower maintenance costs. The gas piston system is treated with a salt nitride Meloniting process that makes it harder and more corrosive resistant. The system reduces the amount of carbon build up on the bolt carrier assembly which cuts down on cleaning time, and increases the efficiency.
Located in Odessa, Florida, Adams Arms is a leading manufacturer in the firearms industry. They are dedicated to creating cutting edge technology for the AR-15/M-16 rifle platforms that fits the needs of the modern day shooter. All Adam Arms products are made in the USA and come with a Life-Time Warranty. For more information on Adams Arms and their products please visit http://www.adamsarms.net.