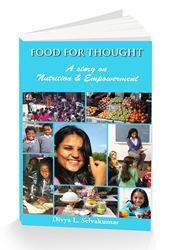 This book a great illustration of how big of a role empowered women can play in improving the health and nutrition status of their community
Fairfax, VA (PRWEB) February 26, 2014
MIDEGO, Inc. (http://www.midego.com), the pioneer in global health consulting, is proud to announce the release of 'Food For Thought: A Story on Nutrition and Empowerment'. Food for Thought is a book about nutrition, empowerment, and the important role food plays in all our lives. The book takes the complex field of nutrition and teaches important and fundamental concepts in an easy to understand narrative. The book covers topics such as food security, prenatal nutrition, breastfeeding, HIV nutrition, nutrition policy, and even the role of the private sector in dealing with under nutrition. Complete with some recipe ideas and discussion questions, this book is ideal for school teachers to introduce the topic of nutrition to primary and secondary students in developing countries.
Divya L. Selvakumar is a nutrition specialist, professor, and consultant from California, USA with over 12 years of experience in child nutrition, prenatal nutrition, general nutrition, and HIV/AIDS nutrition. Her experiences are noted in international development and global nutrition. Divya is also trained in the fields of program management, program development, research, field trainings, and materials/publication design. Prior to turning 30, she has lived in Kuwait, India, Tanzania, and in the United States.
Divya now resides in Maryland and teaches courses in nutrition and health at Montgomery College. She is also completing her PhD student in Public Policy and Administration at Walden University, focusing on International NGOs. Currently, Divya is the director of a new NGO, American Hindu World Service (AHWS), a 501(c)(3) registered tax exempt nonprofit which seeks to educate the American public about Hindu faith-based perspectives in global health and international development.
What People have been saying about Ms. Selvakumar's new book:
"What a clever and entertaining presentation of proper nutrition throughout the life cycle, with a clear sense of the cultural and environmental challenges that people, especially women, face around the world. This book a great illustration of how big of a role empowered women can play in improving the health and nutrition status of their community." -Dr. Binetou C. Seck, Director and Founder of Nutrideal, Dakar, Senegal
"The author has written a very important and comprehensive book, especially for those readers who have not studied nutrition. It is as though she has provided us with a mini-course in the relationship between good nutrition and good health, but by linking them to a variety of scenarios in this scientifically based novel, the information is communicated in a much more palatable form than one would encounter in a classroom." - Leonard Nessen, Consultant and Independent Food and Beverage Professional, Food and Drug Administration (retired)
To order the book, go to http://www.midego.com/books-by-divya-selvakumar.
About MIDEGO PUBLISHING
MIDEGO Publishing provides experienced health professionals an outlet to share their expertise, experiences, and advice with others to affect change in the lives of others around the world. Write to info(at)midego(dot)com to find out more about the upcoming authors workshop: "How to Write a Global Health Book in a Weekend."
About MIDEGO, Inc.
Founded in 2005, MIDEGO is a well-established global health consulting company, specialized in professional and organizational effectiveness in the health sector. MIDEGO's mission is to help countries exceed the Millennium Development Goals, hence the name of the company. MIDEGO helps clients improve how they work and save more lives while advancing in their careers. MIDEGO also works with partners to create and implement effective and efficient organizational health development strategies that are led by empowered local leaders. MIDEGO's online training and coaching programs help health professionals realize their career mission by leading the kind of changes they know they need to bring about in their countries. Find out more at http://www.midego.com.