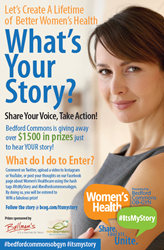 '#ItsMyStory is here because every women has a voice and a story, and simply by sharing a thought, a story or even a question, women can empower each other and create the very best healthcare experience possible!' stated Christina Haag of Bedford Commons.
Bedford, NH (PRWEB) February 26, 2014
At the WZID Women's Expo on March 8th, 2014, Bedford Commons OB GYN of Bedford and Derry, NH is launching its first outreach campaign appearance for 2014 called #ItsMyStory. The campaign will capture all posts that use hashtag #ItsMyStory and stream the feed onto the http://www.bcog.com website on a page that we will be announced on Friday (2/28/14). All event announcements will also be posted to the @BedfordCommons OBGYN Facebook page. Bedford Commons is a healthcare practice for women focused on a constant pursuit of providing uncommon care. This campaign will help Bedford Commons actively demonstrate Uncommon Care for Women– while empowering women in a unique and socially conscious manner.
"#ItsMyStory is here because every women has a voice and a story, and simply by sharing a thought, a story or even a question, women can empower each other and create the very best healthcare experience possible!" stated Christina Haag of Bedford Commons.
The practice announced that they will be sharing information about the campaign and start gathering names of those who participate – entering them to win over $1500 in valuable prizes featuring jewelry from Bellman Jewelers and over $100 in gift cards to Nini Bambini that will be awarded at the end of the 2014 Women's Expo. Bedford Commons is also working with its campaign sponsors to raise money, awareness and residential home needs such as dishes, mugs, and household items for local New Hampshire charity Marguerite's Place Inc., which helps women and children who are homeless in addition to hearing stories from women all over the state. Bedford Commons will be posting a list of donation items needed on their Facebook page and website and offers that for every donation the donor will be entered into the grand prize raffle! Also, for every story that is shared via video at the Women's Expo, Bedford Commons OB GYN will donate $5 to Marguerite's Place.
The campaign will ask the question "What's Your Story?" to women around NH and beyond and give them a chance to share stories about their experiences, challenges, wishes, and inspirations surrounding healthcare in an effort to experience a lifetime of health and wellness and to inspire, share, educate and unite with other women and help them do the same. The campaign will be based on asking lots of questions and capturing the stories in small video clips and sharing them on Facebook, on Instagram and then live-feeding them from the #ItsMyStory website. Women will be asked questions like, "Where do you look for information about your health concerns?", "If you are using the internet, how do you decide what sites to visit?" or, "What is one thing that has frustrated you about your Dr. visit experience?" or, "What does living a healthy life mean to you?" or, "Do you trust online data that you find about health issues?"
According to Dr. Marc LeClair, a healthcare provider at the practice, "Improving healthcare resources for women and constantly re-imagining the ideal experience requires asking tough questions, vigilance and then truly listening." Nate Lindquist, Bedford Commons spokesman from Innerspire shares, "The campaign is an initiative that can truly tell a story for women which we can all learn and grow from – while raising money for women and children in need at the same time. It's refreshing to inspire others to talk rather than just talking about ourselves. Every marketing campaign should include giving back and Bedford Commons has demonstrated their commitment to this philosophy."
To kick off this campaign, Bedford Commons has rallied the support of local Mom and Family support system Nini Bambini and well trusted NH Jeweler and Diamond expert Bellman Jewelers who have both made sizeable donations to the cause. With their contributions as well as those from Bedford Commons OB GYN, Belleza Cosmetic and Laser Studios and Innerspire the campaign will bring women together to make a difference.
According to David Bellman – President of Bellman Jewelers, "Our brand is all about trust and beauty; so, giving women a vehicle to share their stories and promote conversation about creating a life of health meets our mission very well. We're excited to be a part of this and to raise money for women and children in need too."
About Bedford Commons OB GYN:
Bedford Commons OB-GYN, PA, located at 201 Riverway Place in Bedford, NH, and 6 Tsienneto Road, Suite 202, Derry, NH provides personalized, state-of-the-art health care services for women of all ages. Founded in 1982, the physicians and staff of Bedford Commons OB-GYN are dedicated to the goal of combining caring medicine with quality medicine. Comprehensive on-site services include obstetrics and gynecology, well-woman exams, pediatric and adolescent gynecology, family planning, menopausal and hormonal management, and wellness programs. The Practice's physicians are board certified.
For more information, visit http://www.bcog.com or contact Christina Haag at 603.668.8400.