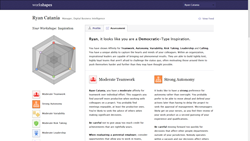 With 20,000 new jobs being imported daily, Workshapes.com is an easy way to find a new career that is both a personal and professional fit.
(PRWEB) February 27, 2014
Workshapes, Inc. has officially launched a public beta of its job-matching site, workshapes.com. The company uses a custom-built workplace personality assessment and a user's unique work experience to find jobs that represent only the strongest personal and professional fit. The company was incorporated in 2012 with the goal of improving the job search experience, while one of the co-founders was at the Yale School of Management and found himself disappointed with the impersonal nature of the online career search.
"With current job boards, you're searching by a limited set of keywords and there's a lot of noise," said Ryan Catania, Co-founder and President of Workshapes, Inc. " If, by chance, you find an interesting opportunity, you're probably one of 400 applicants and your resume gets just 30 seconds of the hiring manager's attention. Even for those who manage to land a job, they only have a limited opportunity to evaluate the corporate culture before making the decision to accept an offer."
Workshapes uses 32 unique workplace personalities to determine what aspects the job seeker prefers in a company, such as a preference for teamwork or variability in day to day responsibilities. A potential applicant can complete the profile and assessment in under an hour and gets a free personality report. Job postings are then filtered to opportunities that provide a corporate culture compatible with those preferences and tailored to their work experience. By screening for fit, the user is part of a much smaller applicant pool and can rest assured they are joining a company that values their unique personality.
We believe a better fit leads to a happier and more productive employee, and reduces turnover. On average, people change jobs every four years and replacing an employee can cost upward of three times the annual salary of the position.
The job matching service is regularly $99 for a 4 month subscription, but will be free during the limited public beta period.