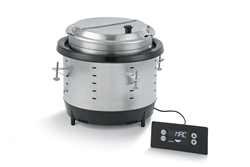 Sheboygan, WI (PRWEB) February 27, 2014
The Vollrath Company L.L.C. follows up the award winning Mirage® Induction Countertop Warmer/Rethermalizers with drop-in versions that offer the same revolutionary combination of induction and rethermalizer technologies.
The new Mirage induction warmer and warmer/rethermalizer drop-ins combine the power, features and durability of the countertop versions, with the opportunity to integrate the units into self-serve, buffet or back-of-the-house stations.
Chefs and food-service operators alike will appreciate fast, even heat and the almost "set it and forget" operation of the Mirage Induction Drop-in Warmers and Rethermalizers. They run without a water bath, freeing operators from the hassle of monitoring and refilling the well. 3D induction coils quickly and efficiently transfer heat directly to the induction-ready-inset eliminating the need to preheat, creating fast-start-up and retherm times. Patent-pending sensors monitor temperature at several points for more precise temperature control and more even heating which preserve food quality and reduce waste.
The Mirage® Induction Drop-in Warmers and Rethermalizer make it easy to rethermalize, hold and serve a variety of food products at proper temperatures to maintain food safety and quality. The remotely mounted digital control panel features precise temperature control in single degree increments, and presets for soup, mac and cheese, cream soup and chili. Settings can be locked to prevent tampering. A temperature sensor-activated stir indicator light signals when to stir food to preserve quality and prevent overcooking.
The 800 watt rethermalizers and 250 watt warmers are available in 7 or 11 quart models, and are sold complete with Vollrath's induction ready inset (required) and hinged cover. They are UL listed and meet NSF4 performance criteria. Base and inset are NSF listed.
Vollrath's Induction Countertop Rethermalizer is the recipient of the 2013 Kitchen Innovations Award and the 2013 International Hotel, Motel + Restaurant Show Editor's Choice Award.
For more information, please visit Vollrath's new website at http://www.vollrath.com. The state-of-the-art website includes detailed product information on Vollrath's complete line of small wares and equipment, zoom-able product images and a complete library of related resources. The new site features a more intuitive navigation, a robust search, and product filters for quick access to the information foodservice operators need.
The Vollrath Company, based in Sheboygan, Wisc., has a reputation for the design, development and manufacture of the foodservice industry's finest smallwares and equipment. With a collection of exceptional people, industry leading products, and helpful consultative services, Vollrath is assembled for one purpose – to advance the art of hospitality. For more information about The Vollrath Company, its products, facilities in the US, Europe and Mexico, and the 19 foodservice industries it serves, visit http://www.vollrath.com or search "Vollrath" to find us on Facebook or Twitter.