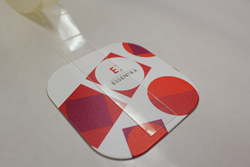 Forest Park, IL (PRWEB) February 27, 2014
Remo Two® Clear is well-suited for applications such as mounting clear acrylic sign holders, especially when it needs to be removed shortly after application. It is ideal for short-term applications where the adhesive should not be visible in or on the display.
Remo Two Clear has also been designed for displays that have temporary or removable components, where the tape adhesive cannot be permanent and must be easily removed. Examples for use with P.O. P displays include frames, fixtures, sign holders, posters, banners, headers, mobiles, shelf edging and signage. In addition, Remo Two Clear can be used with showcases, cabinets, racks and other merchandising displays.
Remo Two Clear has been designed to bond to many different types of surfaces, including metal, glass, chipboard, wood and high surface energy plastics. Its foam tape structure allows for contact on uneven surfaces, filling gaps, voids and other surface irregularities. The bond is improved by applying a firm even pressure to the tape.
This innovative tape is 1/32" thick and comes on a clear liner as a continuous roll or as pre-cut pieces. It is available in stock as a continuous roll, in widths of ½", ¾" and 1" and roll lengths of 216 feet.
Remo Two Clear in pre-cut pieces also comes on a roll. Each stock piece is 1" wide, and is available in a choice of 1", 2", 3" or 4" lengths.
For more information, please go to http://www.essentraspecialtytapes.com.
About Essentra
Essentra is a leading international supplier of specialty plastic, fiber, foam and packaging products with four principal operating divisions: Component & Protection Solutions, Porous Technologies, Packaging & Securing Solutions and Filter Products. The company continuously produces and distributes millions of small, but essential, components to a variety of industries. Its products are often unnoticeable or even unrecognizable, but are found everywhere.
The company's international network extends to 29 countries and includes 42 principal manufacturing facilities, 64 sales and distribution operations and five research & development centers.
Shares in the new company are now traded on the main market of the London Stock Exchange under the Tradable Instrument Display Mnemonic of ESNT.L. Essentra's ISIN and SEDOL numbers, being GB00B0744359 and B074435 GB respectively, are unchanged.
About Essentra Specialty Tapes, Inc.
Essentra Specialty Tapes offers a wide selection of uniquely functional tapes required by market segments such as Point of Purchase Displays, to effectively merchandise store products in retail establishments; by appliances, to make them water-tight and quiet; in buildings, to reinforce structural or design elements; in schools and museums, to provide permanent and temporary fastening solutions for changing needs; for sealing envelopes, securing package contents prior to shipping, and for many more customer requirements.
Products include foam tapes, double-sided tapes, removable tapes, glue dots, transfer tapes, hook and loop tapes, film and laminating tapes, high bond tapes, weather stripping, bumpers and magnetic tapes, among others. All products are available in stock, and the company accommodates custom orders, as well. The company has 65 years of design and manufacturing expertise that ensures dependable product performance and unmatched service. The company's locations are positioned to provide one to two day delivery from stock, with very small minimum order requirements.