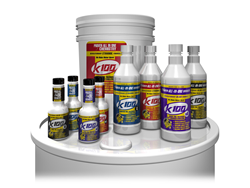 Youngstown, NY (PRWEB) February 26, 2014
Winter weather can cause water-related fuel problems that can damage engines and fuel systems in vehicles and equipment. Eliminate that problem this winter with K100 Fuel Treatment from Kinetic Fuel Technology, Inc.
K100 Fuel Treatment eliminates water and all water-related problems under the hood and in equipment, while at the same time cleaning engines and fuel systems for better mileage, easier starting, smoother idling, more power, and better acceleration.
While K100 Fuel Treatment eliminates water for an easier and smoother ride, it also increases cetane and octane ratings in fuel, and improves overall engine efficiency for more miles per gallon and hour. K100 treatments also lower emissions as they reduce black smoke, oil fumes, CO, HC and particulate emissions. K100 can lubricate fuel systems, burning fuel cleanly and completely, while leaving no ash deposits. Fuel will be stabilized and fresh, preventing phase separation in E-10 fuel.
K100D Fuel Treatment for diesel replaces lost lubricity in LSD, ULSD and K-1 winter blend fuels. K100 will also prevent the growth of microbes in diesel fuel. Other K100 treatments include K100MD for diesel and K100G or K100MG for gasoline.
K100 Fuel Treatments can be used for all gasoline and diesel-powered equipment and are formulated for use with all fuels. The main benefits of K100 treatment, besides the elimination of water, are reduced maintenance costs and downtime. Contact Kinetic Fuel Technology Inc. in Youngstown, NY for K100 Fuel Treatment by calling toll free 1-800-530-6935 or 716-745-1461, or visiting http://www.k100fueltreatment.com.
About the Company:
K100 Fuel Treatments are proprietary formulations of complex organic compounds developed primarily to eliminate moisture contamination in fuels, with additives to improve the cleaning effect and cold temperature operation, increase lubricity and shelf-life of the fuel, and modify the fuel itself to increase atomization and improve the fuel/energy conversion process. K100 Fuel Treatment can be used for both diesel and gasoline, and helps to reduce emissions and maintenance, while cleaning and lubricating engines and fuel systems. To learn more, visit the K100 Fuel Treatment website at http://www.k100fueltreatment.com/.