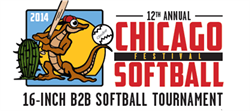 PHOENIX, ARIZ. (PRWEB) April 04, 2014
The premier B2B (business-to-business) softball event in the valley announces this year's celebrity lineup. 22 Teams from local businesses will battle it out to be crowned the best in the area playing 16" Softball at the new Cubs Park spring training facility in Mesa on April 6. The men's title game will be at noon followed by the Co-ed title game at five thirty; both games are scheduled to play at the main field at Cubs Park.
"The tournament highlight is the game between company CEOs and local celebrities, sponsored by the Phoenix Business Journal and Arizona Leadership Foundation and organized by Arizona Sports 98.7 FM and News/Talk 92.3 KTAR, " said station general manager, Ryan Hatch. "The CEOs vs. Celebrities game will be broadcast live on Arizona Sports 98.7 FM."
The CEO teams scheduled to play are as followed, GPM, Cubs, JDRF, Avnet, ADESA, Avnet, D-Backs, and PIR.
"This tournament is great way to give back to the local community," said Al Maag, tournament organizer. "Whether you're a player or a spectator, this event provides a wonderful opportunity to spend a Sunday with the family. All net proceeds from the tournament benefit deserving local charities like JDRF, The Miracle League of Arizona and Spark of Hope."
Celebrity lineup:
Danny Zelisko
Dan Bickley- Radio host on Arizona Sports 620 (KTAR AM)
Tim Ring – AZ Family
Amy Van Dyken Rouen – six-time Olympic gold medalist swimmer
Tom Rouen – Two-time Super Bowl winning punter for the Denver Broncos
Ryan Bader – Top international UFC fighter
CB Dolloway – Top International UFC Fighter
Aaron Simpson – ASU All American Wrestler and Former International UFC Fighter
Dave Burns – Arizona Sports 98.7
Vince Marotta – Arizona Sports 98.7
Doug Franz – Arizona Sports 98.7
Festivities are slated to include clowns creating balloon art and face painting, a bean bag competition, a Budweiser beer garden, raffle prizes, silent auction, festival booths and music. Winners of the tournament, both Co-ed and Men's, will receive Suite tickets to an Arizona Diamondbacks game and second place winners will each receive a $25 gift certificate to Don and Charlie's restaurant in Scottsdale.
Event: 12th Annual 16-Inch B2B Softball Tournament (Formerly the Avnet B2B Chicago 16-Inch Softball Desert Classic)
When: April 6, 2014, 8:30 a.m. – 6:00 p.m.
Where: Cubs Park spring training facility, 2330 W. Rio Salado Parkway,
Mesa, AZ 85201
For more information please contact Tiffany Hoffman email her at Tiffany.Hoffman(at)maagcommplus(dot)com.