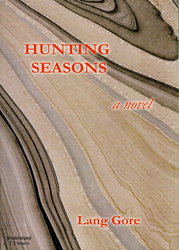 ...very real, very complex relationships, at times, uncomfortably familiar and occasionally disturbing.
Evergreen, CO (PRWEB) February 27, 2014
Brook Forest Voices (BFV) has agreed to produce and publish Unrelenting Press's "Hunting Seasons" by Lang Gore as an audiobook. It is scheduled for release Spring 2014. The search for an experienced narrator is now under way.
Set in the Pacific Northwest, "Hunting Seasons", has been described at times as a love story and at times as an anarchist drama, but at its heart it is an intricately woven tale of two families: Candace's affluent and socially well placed family; and Leland's, a high spirited, free thinking working class family. At times gritty and profane and at times lyrical, the book tells the stories of Candace and Leland, friends from childhood. Their lives and relationships intersect and diverge over the course of their lifetimes. The story is told from a wide range of perspectives from children of both families to Leland's sixty-year old grandfather. BFV will be seeking a narrator skilled in interpreting a wide range of characters, mainly English speaking, along with some very minor Italian voices .
"Hunting Seasons" author, Lang Gore, resides in the Southwestern US and as he states, "…has played at many occupations over the decades, including secretary, cab driver, tree planter, pamphleteer, forest-fighter, bouncer and logger." Lang Gore has taken these experiences to enliven and enrich the realistic texture of "Hunting Seasons".
About Brook Forest Voices: a complete audio production studio located just west of Denver in Evergreen, CO, specializing in audiobook narration, production and publishing. BFV is designed to help large and small publishers, as well as authors, with all their audio needs. Publishers and authors wanting to learn more can visit http://www.brookforestvoices.com or contact Jaime Andrade, BFV Business Manager at 303-670-4145.