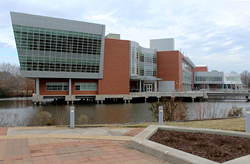 Virginia Beach, VA (PRWEB) February 26, 2014
Doors fully opened this semester for students at the newly constructed Tidewater Community College (TCC) Virginia Beach Student Activity Center. Located over a four-acre retention pond in the center of campus, the 89,000 square foot Student Activity Center is a unique addition to this community college setting. With space allocated for student activities, food service, and recreation, students are encouraged to enrich their learning and development through collaboration, discovery, and leadership opportunities.
On track for LEED Silver Certification, the building consists of five major program elements including: food service comprised of a 300-seat dining facility, kitchen and servery; bookstore; gymnasium and active lounge; various meeting rooms for student organizations; and a space allocated for administrative functions. The exterior landscape features three bridges that connect the building to the remainder of campus with colorful trees and shrubs that provide welcoming outdoor spaces.
Timmons Group provided site engineering, planning and landscape architecture services for this project and has worked as the lead civil engineer with TCC for their Norfolk Campus Student Activity Center, complete in 2011. Currently, they are working on the design phase of the TCC Chesapeake Campus parking garage.
About Timmons Group
Timmons Group is a multi-disciplined engineering and technology firm recognized for nearly twenty years as one of Engineering News Record's (ENR) Top 500 Design Firms in the country. The firm provides economic development, civil engineering, environmental, GIS/geospatial technology, landscape architecture and surveying services to a diverse client base. Headquartered in Richmond, Virginia, Timmons Group has regional offices throughout Virginia and North Carolina. For more information, visit http://www.timmons.com.