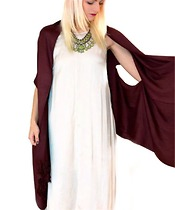 I love shawls but get frustrated with the way I am constantly fussing with them to stay in place. I was so excited because you are exactly what I was looking for! - Tamera F., Alexandria, VA
Detroit, MI (PRWEB) February 27, 2014
THE Posh'mina, a new Detroit-based fashion scarf company, is pleased to present its innovative line of big scarves for women. Debuting at Detroit Fashion Week, the Posh'mina is an inventive, versatile take on the pashmina that effortlessly dresses up, layers with, or inspires the perfect outfit.
The clever arm slots and sleeved designs set the Posh'mina apart from standard pashmina scarves – putting an end to big scarf fashion faux pas of slipping, robotic arm movement, and persistent tugging.
As stylish as it is easy to style, the Posh'mina can be worn sleeved, draped, or wrapped. Simply slide arms – or just the fabric – through the slots and the Posh'mina stays securely in place without tying or bulky knots. The arm slots or sleeves make doing everything easier -- wearing a shoulder purse, driving a car, toting bags, holding children, dining, or even reading a book without the bunching caused by standard pashminas. It's the perfect cover-up around the office and home, a must-have companion on vacations and planes, and a unique gift for moms, teachers, and travelers.
To shop or learn more about this new fashion accessory, visit http://www.theposhmina.com/ or contact Debbie Burgam at Debbie(at)theposhmina(dot)com.
About
THE Posh'mina is a Detroit-based fashion accessory company specializing in large fashion scarves with unique functionality and styling. THE Posh'mina can be shopped at http://www.theposhmina.com as well as at select boutiques, online retailers, and specialty catalogs.