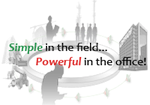 AboutTime provides a complete end-to-end solution...
Payson, UT (PRWEB) February 26, 2014
AboutTime Technologies will be exhibiting their innovative mobile resource management solution at the International Roofing Expo in booth #138 The International Roofing Expo will be held in Las Vegas, Nevada February 26-28, 2014. AboutTime Technologies is the industry leader for mobile resource management. Associates will be available to answer questions regarding the AboutTime solution and how it can benefit companies in the roofing industry.
" AboutTime Technologies provides more than just time and attendance reporting," stated Mike Merrill COO of AboutTime Technologies. "Roofing companies often have multiple jobsites with crews and employees spread out across the state or even multiple states. AboutTime provides a complete end-to-end solution to not only collect time and attendance but to manage remote projects. Sending feedback to and from the office allows foreman in the field and managers in the office to stay connected and keeps projects on schedule and under budget. "
AboutTime will be exhibiting their Mobile Resource Management Software along with the award winning FormsXPress module and their newest innovation WebClock. Members of the AboutTime team will be available in booth #138 for personal consultations regarding how AboutTime can work for your company.
The annual International Roofing Expo attracts decision makers from every segment of the roofing construction industry, many of which are current customers of AboutTime Technologies. The International Roofing Expo also provides 44 educational seminars by leading industry experts along with a wide range of manufacturers, distributors, and representatives displaying products, services technologies and innovations.
###
AboutTime Technologies, the market leader in mobile resource management solutions, provides software tools to increase visibility and more effectively manage daily field operations. AboutTime delivers project insight into daily labor totals, production, site conditions, budget accruals and equipment utilization. AboutTimes customers know where each project stands on a daily basis and are able to make real time decisions from verifiable and accurate information leading to increased profitability and decreased liability.