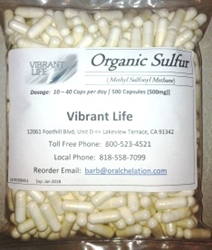 Their completely new article page allows Vibrant Life to convey their knowledge with customers while offering their expertise on a wide selection of topics.
Lake View Terrace, CA (PRWEB) February 25, 2014
Vibrant Life has recently launched their new article web page so that readers can learn about various health-related issues.
Vibrant Life's web site contains a wide range of information about the products they provide as a way to assist customers in understanding more about the products Vibrant Life offers.
On their website, consumers will come across information about all sorts of health problems ranging from body fungi to osteoporosis.
Vibrant Life also provides buyers with brand new articles regularly, now available through their recently launched article page, in order to spread awareness about health issues.
Website visitors will be able to find new information every so often if they check the article page often.
Current Highlighted Topics
Their completely new article page allows Vibrant Life to convey their knowledge with customers while offering their expertise on a wide selection of topics.
Listed below are six of the most recent featured reports by Vibrant Life which can be found on their article page:
1. "Natural Remedies for Eliminating Body Fungi": There are an incredible number of microorganisms that can be found on the planet. Among the many thousands and thousands that are known, fungi a type to be cautious of. Fungi are regarded as decomposers, meaning they break down organisms including the human body. In particular, the parasitic body fungi which feed on the live hosts to survive are the type to avoid. This article explains more about body fungi and how to go about treating it.
2. "Organic Products": Natural products are produced without the use of any man-made fertilizers, insect sprays, or anything else that can be deemed as unhealthy and dangerous. Creatures used for food purposes, like chicken and cow, are considered organic in the event they are not provided any sort of growth hormone. Find out more about organic products by taking a look at this article.
3. "Harm of Over-Prescribing Antibiotics": In recent times, health experts have come to find that taking too many antibiotics should be avoided. By taking an excessive amount, the bacteria and viruses will become immune to antibiotics which can lead to even worse health issues later on. Learn more about the effects of over-prescribing antibiotics on Vibrant Life's article page.
4. "Managing Diabetes": The human body requires glucose so that it can create energy for the tissues and cells. If there is not enough energy to go around, the cells will not be able to perform as normal which causes the immune system to become weaker. When blood sugar levels are excessive, this may result in the condition known as diabetes. Vibrant Life discusses how to manage this condition.
5. "Problems Caused by Obesity": Obesity is a problem that is becoming worse every single year. There are several explanations as to why this problem is growing, such as the popularity of fast food restaurants. Obesity can lead to major diseases and problems like hypertension and heart disease. Vibrant Life talks about more of the problem caused by obesity and lifestyle changes that can be made to overcome this problem.
6. "Hot Flashes and How to Treat Them": Hot flashes are a problem that women will face when they reach the age of menopause. Learn more about hot flashes and how they can be dealt with at Vibrant Life.
Vibrant Life - Website
To find out even more about Vibrant Life's products and to learn more from their new article page, visit their website at http://www.oralchelation.com/articles.html.
Vibrant Life
Clifford Woods, CEO
Phone: (818) 558 – 7099
Email: ceo(at)organicet(dot)com