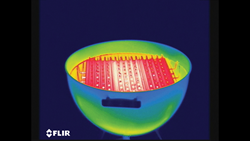 It's taken 5 years to answer the question why GrillGrates grill food so much better. In one word: infrared.
Cartersville, GA (PRWEB) March 25, 2014
GrillGrate LLC announced today that the company enlisted the technology of FLIR Systems Inc., the world's largest commercial company specializing in thermal imaging and infrared cameras, components, and imaging sensors for a study focusing on infrared grilling. Infrared grilling is currently a hot topic in the grill world, as infrared burners have given way to infrared grills, and now infrared GrillGrates.
GrillGrate LLC manufactures a patented raised rail replacement grill surface that converts the heat from any grill or fuel source into infrared heat. The company recently debuted a new marketing campaign featuring infrared video and images that captures "both the art and the science of better grilling" according to Brad Barrett, President of GrillGrate LLC.
GrillGrate utilized the technology of FLIR Systems, the world leader in infrared imaging, to help explain and understand GrillGrate's thermal properties. FLIR provided a top of the line handheld thermal camera to study infrared images of grills with and without GrillGrates on the surface of the grill.
Infrared heat is not the same as hot air convection heat, or flames coming from gas, wood or coals. Instead, infrared heat is transmitted by "rays" or wavelengths which do not require a medium such as air or water to be transmitted. As a method of cooking, infrared rays penetrate food and cook from the inside out, as well as the outside in.
Outdoor grilling has always used a degree of infrared heat, like the infrared heat found in glowing coals and the radiating metal of gas grills. But the primary cooking mechanism in outdoor grilling remains fire and convection heat.
"Most grills cook via convection (hot air) and conduction (contact). The shape and aluminum alloy of GrillGrate radiate infrared heat to achieve a noticeable improvement in juiciness and tenderness," Barrett said. "It has taken 5 years to answer the question "Why do GrillGrates grill food so much better? In one word: infrared."
GrillGrates have found acclaim beyond the backyard as chefs and restaurants have discovered GrillGrates and even the competition circuit is winning with GrillGrates. The past three year's winners of the World Championship Steak Cook-Off® all grilled on GrillGrates.
GrillGrates are a patented raised rail design that has a bottom with holes in it to drain fats and grease and allow smoky flavor to waft through to the food. Interlocking panels either sit on top of the existing surface or replace it altogether. The bottom blocks flare-ups while the valleys keep juices sizzling and smoking just below the food.
To learn more about GrillGrates and the infrared study, please visit grillgrate.com.
Link to DropBox infrared images High res infrared video available.
About FLIR Systems
FLIR Systems is the leader in commercial and personal infrared imaging technology and sensor systems that enhance perception and awareness.
About GrillGrate
GrillGrate LLC is based in Catersville, Georgia. GrillGrates are manufactured in various lengths and shapes for all popular grills. GrillGrates improve the cooking performance of any grill, including gas grills, charcoal grills, kamado and pellet grills. GrillGrates are proudly made in the USA. The GrateTool is made in China. For more information, please visit http://www.grillgrate.com.