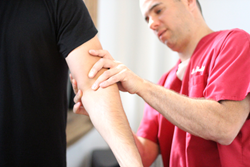 New York, NY (PRWEB) February 27, 2014
New York City is a tough place to stop and take time off to heal from an injury or a chronic painful condition. Achieving long term pain relief without invasive surgery is tougher still. Chronic pain is especially difficult to deal with once you factor in the NYC lifestyle. Just getting around on the subway is hard enough on your body.
Living Well Medical is a Manhattan based, integrated medical practice that specializes in non-surgical pain relief and interventional pain management. Their unique approach of combining multiple disciplines under the same roof is designed to be integrated and patient centered to provide care that is fast, effective, and minimally invasive. They have provided unparalleled results combining traditional medical care, chiropractic, physical therapy, acupuncture, and medical massage, among many other proven and effective techniques spanning many disciplines.
This patient centered practice also offers in-house diagnostic techniques to minimize runaround. Digital X-ray and diagnostic ultrasound are on hand in the office, and they are affiliated with a MRI diagnostic imaging group. This all helps to determine the root cause of pain. This also helps determine the best course of treatment, and is evaluated by a medical doctor on staff. They also offer fluoroscopic and ultrasound guided pain relieving injections ranging from epidurals and joint injections, in conjunction with physical therapy and rehabilitation. Having multiple disciplines under the same roof also helps patients get the treatments that are right for them quickly, and seamlessly.
Chiropractic care at Living Well Medical isn't just limited to manual therapy, there is also an option to use non surgical spinal decompression. Spinal decompression is a highly effective, computer aided treatment that can help the inter-vertebral discs heal without surgery. Physical therapy is also employed to ensure that underlying muscular imbalances and weaknesses are addressed and the body is brought back to proper kinetic function and integrity.
While chiropractic care helps restore the hard tissue of the spine and hips to proper alignment, physical therapy aids the soft tissue in recovering their proper range of movement and strength to ensure that the body is less likely to return to the state that initially resulted in pain or injury. Treatment results are further enhanced by a team of clinicians working together to find the best approach to treating a patient's pain and preventing future problems.
For the month or March, Living Well Medical will be offering complimentary reviews of patient's MRI's and X-rays. For more information on pain management, physical therapy, acupuncture, chiropractic or neuromuscular massage, visit: http://www.livingwellnewyork.com.