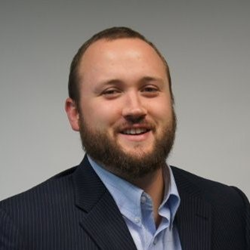 Having worked in the Online Marketing industry for some time, I know how vital quality content is to the success of a business on the web.
Salt Lake City, UT (PRWEB) February 26, 2014
Leading SEO content provider BKA Content has announced Jon Bingham as their new Director of Marketing. Jon will be in charge of all marketing initiatives, including tradeshows, PPC campaigns, strategic partnerships and brand reputation.
Jon Bingham graduated from Utah State University in the spring of 2010 with a Bachelor's degree in Marketing and Public Relations. After graduation, Jon moved to Dallas, TX to work for one of the largest online advertising firms in the nation, ReachLocal. There he managed the online presence of over 25 car dealerships at a time. A year later, he was given the opportunity to move to the Salt Lake City office as the Client Services Consultant, tasked with improving client retention, analyzing clients' marketing campaigns, and creating sales reports. He then became an Account Executive, with over 40 clients to manage and maintain. He has a wide range of experience in SEO, SEM, Retargeting, Customer Service, Social Media, and many other forms of online advertising. Jon enjoys sports and the outdoors, played collegiate water polo at USU, and is married with a two-year old son named Lincoln that keeps him busy.
"Having worked in the Online Marketing industry for some time, I know how vital quality content is to the success of a business on the web," stated Jon Bingham, Director of Marketing at BKA Content. "The only way to really engage your customers and build brand loyalty is through the quality of the content that you are producing and publishing. I'm very excited to work with the BKA Content team and reach out to businesses that can benefit from the amazing content creation experts that we have here."
Coming directly from an SEO agency that is very hands on with their clients, Jon has an in-depth understanding of what consumers, clients and agencies are looking for when it comes to content. This all-around experience will allow BKA Content to better customize their products, pricing and messaging.
For more information on BKA Content's Managed Services, please visit the BKA website at http://www.bkacontent.com/managed-services/.
About BKA Content
BKA Content is one of the leading SEO content providers on the web today. They have served clients ranging from SEO Agencies to Fortune 500 companies. Their services include the creation of both on-page and off-page content and they provide content solutions through the use of managed writing teams, dedicated account managers and quality writing. To acquire more information on the services that they provide, please visit http://www.bkacontent.com/.