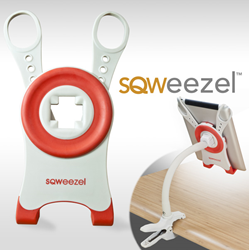 Quick connect/disconnect lets the user hold the tablet or mount it instantly for hands-free use. Holds tablet with or without case.
Baltimore, MD (PRWEB) February 27, 2014
This is opening day for SQWEEZEL on SMARTdesks.com, a place that has always been a resource for finding the tools that facilitate a delightful experience with technology. The SQWEEZEL is a truly universal mounting system. Use with iPad, iPad mini, Kindle Fire, Galaxy, Toshiba, Surface, any device, with or without a case, up to 2.5 lbs and overall height and with between 6"-12". The quick connect/disconnect allows easy and safe attachment to the flexible mounting arm and removal for when holding the tablet is best. The mount allows full rotation for use landscape and portrait at any angle.
Available in clamp mount or flat surface mount that includes wall anchors. The clamp mount works on table edges up to 2" thick and also attaches to round pipes, bars and ladders. Practical for use in kitchens and food prep areas, available with easy cleaning, anti-microbial silicon arm covering. Use in schools, healthcare, workshops — just about everywhere—indoors or out.
Over the next three weeks, SMARTdesks will also be giving two SQWEEZELs per week (six total) to people who like their Facebook page. The page is a favorite of many who enjoy the dialog about using technology in the context of collaboration and communication in education, research, healthcare, business and government. Architects, designers and IT integrators are welcome to join the dialog, along with all Facebook friends. SMARTdesks employees, family members and service providers are not eligible to win the SQWEEZEL drawing.
SMARTdesks designs and manufactures innovative, custom computer conference tables and computer classroom furniture. Each product is made to order, nuanced for the technology, purpose and interior design choices for the space. SMARTdesks is the patent holder for flipIT® products and is the sole source for flipIT and factory integrated flipIT furniture products. Serving universities, corporations, government and military clients world-wide, SMARTdesks furniture is made in the USA using LEED compliant materials and GREEN manufacturing methods. For more information, contact smartdesks through the web site— http://www.smartdesks.com