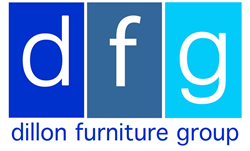 Greensboro, North Carolina (PRWEB) March 24, 2014
Telos Furniture, LLC, part of RHahn Holdings, LLC, is pleased to announce the launch of our new inline, quick ship website Dillon Furniture Group at http://www.dillonfurnituregroup.com.
The new website offers contemporary look, ease of navigation and streamline user experience. It features collections both made in the usa and overseas offering traditional style to modern at moderate price points. Allowing the users to formulate quotes for guest room furniture and obtain pricing and production schedules from their local DFG representative. From quotation, order and to shipment for your hotel it all starts at your fingertips.
The website is a true resource for reviewing inline finishes, granites, quarts, hardware and more. Users will be able to review sizes, line drawings and compare products through the DFG search engine.
Enhanced Portfolio allows customers to view previous installations by DFG and achieve design inspirations from all the options that our Collections offers.
To see the website and start your quote, please visit http://www.dillonfurnituregroup.com.
About DFG, Dillon Furniture Group, inline hospitality brand of Telos Furniture, LLC guest room case good manufacturers whose factories both domestically and overseas have been building premier hospitality furniture for over 20 years. Our balanced approach of US factory ownership, along with a senior management staff with over 60+ years of sourcing expertise and domestic plant management, allows us to provide a unique experience of hospitality case good production both here in the US and abroad.
Telos Furniture, LLC is committed to respect our customers time, our customers design, strict engineering excellence, precise management support and sound environmental decisions.
RHahn Holdings, LLC. An international furniture holding company based in Greensboro, North Carolina for both hospitality and residential furniture groups.