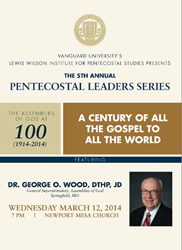 The Pentecostal Leaders Series is a means by which we can spotlight Vanguard's Pentecostal heritage and identity.- Derrick R. Rosenior, Ph.D., director of The Lewis Wilson Institute for Pentecostal Studies
Costa Mesa, CA (PRWEB) March 03, 2014
Vanguard University's Lewis Wilson Institute will hold its 5th Annual Pentecostal Leaders Series on Wednesday, March 12, 2014. The annual series serves as a host to Pentecostal leaders involved in the charismatic movements national and internationally, as well as connects Vanguard University with local pastors and churches. This year's series commemorates the 100th anniversary of the Assemblies of God, Vanguard University's sponsoring denomination.
The Assemblies of God, established in April 1914, has since become a leader in world missions and global evangelism. Now at over 300,000 churches and 66 million adherents worldwide, it is the world's largest Pentecostal denomination.
The Pentecostal Leaders Series is a "means by which we can spotlight Vanguard's Pentecostal heritage and identity," explains Derrick R. Rosenior, Ph.D., director of The Lewis Wilson Institute for Pentecostal Studies.
General Superintendent of the U.S. Assemblies of God, Dr. George O. Wood, will kick off the events for the Pentecostal Leaders Series on March 12, 2014 at 7:00 p.m. in Newport Mesa Church.
"At age 100, the Assemblies of God remains vibrant, strong and growing. For the past 23 straight years, we have seen growth in the USA Assemblies of God. This has happened because the pioneers of the Assemblies of God laid a foundation of Biblical doctrine, strong sense of mission, sacrifice intermixed with faith, and dependence on the person and work of the Holy Spirit," says Dr. Wood.
Throughout the year, The Lewis Wilson Institute for Pentecostal Studies will host seminars and lectures under the theme "The Assemblies of God at 100 (1914-2014): A Century of All The Gospel To All The World."
All events are free and open to the public, no registration needed. Please visit http://lwi.vanguard.edu/seminars-3/.
For more information regarding the centennial celebration of the Assemblies of God, visit http://100.ag.org/.
To request an interview, contact:
Erin Hales, Director of Marketing & Communications
55 Fair Drive, Costa Mesa, CA 92626
714.966.5452
erin(dot)hales(at)vanguard(dot)edu
###
ABOUT VANGUARD UNIVERSITY
Vanguard University (VU) is a regionally ranked, private, Christian university of liberal arts and professional studies. Located ten minutes from Newport Beach and an hour from Los Angeles, Vanguard equips students for a Spirit-empowered life of Christ-focused leadership and service. Vanguard is committed to academic excellence, boasting small class sizes that are designed to cultivate lasting professor-mentor relationships that enhance the learning process. The U.S. News & World Report ranked Vanguard a top 10 regional college in the west for 2014 and The Princeton Review ranked Vanguard a 2014 "Best in the West" regional college. Accredited by the Western Association of Schools and Colleges (WASC), Vanguard offers more than 30 degrees and certificates through its undergraduate, graduate, and professional studies programs. Please visit http://www.vanguard.edu
ABOUT THE LEWIS WILSON INSTITUTE FOR PENTECOSTAL STUDIES
The Lewis Wilson Institute for Pentecostal Studies seeks to encourage and support the study of the Pentecostal and Charismatic movements. It does so by serving as a conference and research center for scholars, church leaders, students and others interested in probing the historical significance and contemporary global role of Pentecostalism and the Charismatic movements. Visit lwi.vanguard.edu
ABOUT DR. GEORGE O. WOOD
The son of missionary parents to China and Tibet, Dr. Wood holds a doctoral degree in pastoral theology from Fuller Theological Seminary in Pasadena, CA, and a juris doctorate from Western State University College of Law in Fullerton, CA. He is a member of the California State Bar. Dr. Wood did his undergraduate work at Evangel University (College) in Springfield, Mo., and served the college in several capacities, including that of director of spiritual life and student life from 1965-71. He was ordained by the Southern Missouri District of the Assemblies of God in 1967.