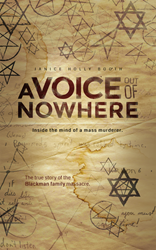 Families of the untreated, severely mentally ill may be at a predictable risk for losing their lives.
Charlotte, NC (PRWEB) February 26, 2014
When the mental health care system is ineffective or expensive, more and more families are forced to care for their mentally ill children and relatives. Even though the price of treatment can be exorbitant, some families pay with the highest currency of all: their lives. "A Voice out of Nowhere: Inside the mind of a mass murderer" recounts the tragic case of Bruce Blackman, a young man with undiagnosed schizophrenia who slaughtered his family when voices told him to "save the world." Recently, Katie Nichols of Tennessee stabbed her 61-year old mother, believing her mother was the ringleader of a satanic cult. In November, shortly after being released from an emergency mental health custody order, Senator Creigh Deeds' son Gus tried to kill his father by stabbing him repeatedly in the head and neck, then killed himself. In October, Chen Ming-dong, a Chinese immigrant, was taken in by his cousin's family after he'd lost his job and had nowhere to stay. He murdered the wife and her four children in a gruesome act of violence after he was noted to be "acting strange" and brandishing a knife.
During a 100-year period between 1900-2000, out of 909 cases of mass murder, more than half occurred in the immediate family. A Windsor Star (Ontario) investigation revealed that in 95% of the cases, the killers and the victims knew each other. The evidence suggests that the families of the untreated, severely mentally ill may be at a predictable risk for losing their lives.
In "A Voice out of Nowhere," the Blackman family seeks psychiatric care for their son, but they fail to understand or recognize the signs that their son's condition is deteriorating. One mistake after another leads to what would at one time be known as Canada's worst mass murder. "Even though the story is 30 years old," says author Janice Holly Booth, "it could easily be plucked from today's headlines, or tomorrow's."
Booth hopes the book will help "shed light on the darkest side of mental illness." It has been Amazon's #1 best-seller in the category of schizophrenia, and has been in the top 10 since its release in September. "It's a mesmerizing story," says Booth, "and a cautionary tale for our times."
BIO: Born in British Columbia, Janice Holly Booth is also the author of the best-selling Only Pack What You Can Carry, a guide to personal growth through solo adventure travel, published by National Geographic. She holds a master's degree in Leadership and spent 20 years as a non-profit CEO before becoming a full-time writer and speaker. She currently lives near Charlotte, North Carolina.