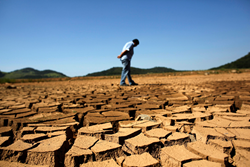 Worldwide drought continues to grow from Brazil to California
Houston, Texas (PRWEB) February 27, 2014
While worldwide drought continues to damage Brazil, California and many parts of the world, Turf Feeding Systems (TFS) is sharply focused on using their 25 years of expertise to reduce the water use up to 50% on any irrigated areas.
Brazil is facing serious drought affecting agriculture, municipal and their hydroelectric power generated across the country. From the World Cup to the rural family farmer, Brazil is facing a crisis.
California is also battling a continuing drought that cripples agriculture, their biggest industry. Cities where green lawns are their image are also affected.
Michael Chaplinsky, the president of Turf Feeding Systems, is a leader in Water Efficiency. He recognizes the current drought issue and is working with a team of specialists to combat the crisis head on. His work to make water more efficient has been proven to reduce water use up to 50% for any irrigated area.
How is this done?
Chaplinsky's simple program of injecting plant and soil nutrients into irrigation water makes each drop sweet and rich with nutrients for the plant and soil.
His fertilizer injection systems are an invaluable tool used to inject the nutrients in the irrigation water precisely with each irrigation cycle. This is the most efficient method to feed the plant as well as the soil. Chaplinsky's program will make the plant and soil itself more efficient, therefore needing less water.
The secret is feeding the soil. Strong soil health is nature's engine to drive plant growth simply and more powerfully. This creates a more healthy soil which produces deeper, more efficient plant roots. Deeper and denser roots use less water, as well as utilize natural soil nutrients to produce a stronger, more efficient plant.
This total program of fertilizer injection combining organically based soil nutrients with normal fertilizer will produce outstanding crops, landscape or sports fields, while reducing water use up to 50%. This program will also reduce the use of fertilizer and chemicals up to 70%.
Mr. Chaplinsky has many case studies demonstrating the success of these programs. He spoke this month at the Global Forum for Innovation in Agriculture on Sustainable Agriculture and Water Efficiency. http://www.innovationsinagriculture.com/
His water efficiency technology also includes a Sodium Blocker product, which reduces sodium (salt) in irrigation water and soil. Sodium is one of the major limiting factors in agriculture around the world. This product greatly reduces sodium in soil, making it more nutritious for plant growth.
Chaplinsky used Sodium Blocker in India in 2005 when he visited to help with the agriculture recovery after the tsunami. Sea water covered many rice fields in the Tamil region from the tsunami and the rural farmers were devastated as their rice fields were contaminated with salt and would therefore not yield a crop.
Michael Chaplinsky shipped his Sodium Blocker product to India to treat the rice field soil and successful rice crops were produced the next season.
Mr. Chaplinsky has dedicated his work to the three most important issues facing the world – water, soil health, and the production of food. He works around the world helping governments and organizations deal with water and soil issues to increase crop production, as well as fights to end the worldwide drought.