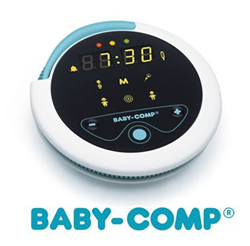 I got pregnant after one month. I had been trying for so long, but with your product I made it
London, UK (PRWEB UK) 26 February 2014
Recent study shows efficacy of fertility monitors in pregnancy planning
Across Europe, many women are looking for reliable ways to increase their chances of pregnancy. One study showcases the efficacy a fertility monitor offers a woman in terms of increasing her chances of conceiving. In the study, 276 American women who had struggled in their attempts to become pregnant were closely monitored. The women's attempts at trying for their children were evident in their expenditures on fertility treatments. On average, a woman participating in the study had already spent $6,500 on fertility treatments, and some of women's fertility treatment spending stretched up to $150,000.
Having experienced difficulties in their pregnancy attempts, the women began using a fertility monitor for close monitoring of their fertility cycles. The results that emerged after the women began using a fertility monitor were notable: after just one month, 50% of the women had conceived, and after three cycles, 90% of the women reported they had become pregnant.
Notably, over 60% of the women in the survey had been subjected to costly and often harmful procedures such as hormone treatments or artificial insemination, which result in many discarded human embryos (from many fertilised eggs only one is implanted). The fertility monitor enabled these women to determine and carefully monitor their unique fertility patterns, learn of the days on which they were most fertile, and then take advantage of those times for trying for a baby.
Baby-Comp, an all-natural and reliable method for increasing chances of conception
On account of the health risks associated with unnatural pregnancy causation methods such as hormone treatments or artificial insemination, many women are looking for reliable and natural ways to increase their chances of conception. Baby-Comp, a fertility computer that uses advanced bio-mathematical forecasting and cutting-edge software to track, monitor, and predict women's unique fertility cycles, offers that value.
Drawing upon over 700,000 cycles of thousands of women with unique fertilities, the computer predicts the best times for a woman to become pregnant. All that is required is a simple 30-second temperature taking each morning, and the monitor informs its user of her fertility status for that day. Baby-Comp is capable of quickly and precisely measuring a woman's basal temperature to a thousandth of a degree in just under a minute. Baby-Comp also alerts its users of their most fertile days, for even greater chances of conception.
More than just fertility monitoring
Since it incorporates state-of-the-art statistical forecasting and planning methods in its predictions, Baby-Comp is also able to detect various causes of infertility. A couple is therefore made aware of any individual problems they may be having with their pregnancy-inducing attempts. The monitor also registers if a woman is not ovulating or if she has a hormonal imbalance, which can be responsible for early miscarriages.
Baby-Comp adjusts to women's unique cycles (including irregular ones) without effort. It detects fluctuations in a woman's ovulation, has no side effects or any additional complicated procedures for its use, does not require graphs, and is easy to use. The monitor also determines a woman's Corpus Luteum level. Users are able to receive a free print-out and expert analysis of the last 250 days of their fertility cycles from Valley Electronics, the originator of Baby-Comp.
Effective natural birth control
Baby-Comp also works perfectly well for natural family planning; allowing women to avoid invasive coils or pills, which studies have shown carry risk of chemical abortion for all women taking the pills or using coils, by their anti-implantation mechanism, which doesn't allow to attach the newly conceived embryo to the mother's uterine lining. Unfortunately, many women are not given information by their doctors about anti-implantation mechanism and the risks they are exposed to, and the fact that these can be eliminated with a natural family planning approach such as the ovulation method.
No recurring costs
Baby-Comp does not have any recurring costs, and Lady-Comp UK offers flexible 4-month and 6-month payment plans with discreet and secure packaging.
More information about Baby-Comp and its efficacy in pregnancy planning can be found at: https://www.lady-comp.co.uk/en/getting-pregnant/baby-comp/.
About Lady-Comp UK:
Lady-Comp UK is the only authorised distributor of Lady-Comp® for the UK and Ireland – the most effective fertility & natural birth control & family planning computer available on the market.