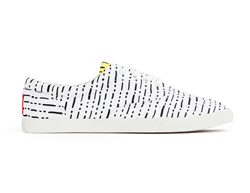 We are proud and humbled to be part of the Nordstrom community so early in our company's history.
Chicago, IL (PRWEB) February 27, 2014
BucketFeet, the artist-designed footwear start-up founded on connecting people through art, is thrilled to add Nordstrom to its already extensive list of popular retailers.
Launching a first installation in mid-March and continuing with a second in April, BucketFeet will be available for purchase at 48 Nordstrom locations throughout the country, including Miami, San Francisco, Los Angeles and Chicago. An assortment of styles will also be available exclusively online at Nordstrom.com.
BucketFeet's first launch will hit 20 Nordstrom locations – eight with a women's only focus and 12 with both men's and women's collections. The designs include some of the brand's most popular styles, including Apsara, Earth, Bamboo, The Dro, and more.
During the second week of April, an additional 28 stores will begin carrying BucketFeet as well. Prices start at $68.
The BucketFeet team looks forward to growing the brand and to offering customers a new way to experience their products.
"We are proud and humbled to be part of the Nordstrom community so early in our company's history," said Bobby Stephens, BucketFeet President and COO. "It provides an unparalleled opportunity to share our artists' stories with an audience that is both fashionable and passionate about art."
Visit BucketFeet.com to see more products and learn more about their talented artists.
ABOUT BUCKETFEET:
BucketFeet launched in 2011 after a chance meeting three-years earlier in Argentina between two strangers who were backpacking around the world. Today, BucketFeet exists to celebrate self-expression through art. A different artist designs every item they produce giving each person who wears it, hangs it or gives it, an original story and style. BucketFeet shoes are made to stand out, inspire conversations and create new connections.