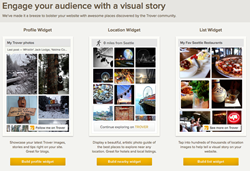 Our new widgets help our members reach larger audiences, and also help websites of all stripes to tell authentic visual stories about thousands of destinations, cities and neighborhoods
Seattle, WA (PRWEB) February 26, 2014
Trover (http://www.trover.com), a community-driven visual guide serving travelers and local culture enthusiasts, announced today three free photo widgets that provide any website the opportunity to showcase high quality location-based photos created and curated by Trover's community. Available immediately, the new Trover Widgets make it possible to quickly publish geo-tagged images, stories and insider tips documented by the Trover community to help bloggers and websites deliver unique visual photo guides that will help their readers explore the best of everywhere, whether locally or worldwide. Trover created the widgets by employing best practices learned while creating custom programs for Bing Travel apps for Windows and Windows Phone and hotel network buuteeq, who both worked with Trover last year to bolster their offerings with user-generated travel experiences from over 3,000 destinations worldwide.
"Trover is a visual app powered by a passionate community and we've had good feedback from our customers that the images and content are intuitive tools that ease travel decisions and planning," said Steve Chang, Group Program Manager for Bing. "The unique, engaging and fresh nature of Trover's 'discoveries' complement the professional travel content and services that Bing already offers in the Bing Travel apps for Windows and Windows Phone."
With hundreds of thousands of places and images already posted, Trover's growing community is popular among travel, food and localista bloggers. Trover has distinguished itself by offering a more place-centric platform to share travel stories and local gems compared to Facebook, Instagram and Tumblr, as well as a more visual experience than TripAdvisor and Yelp. The new widgets make it easy for bloggers and websites to easily publish Trover images and experiences right on their websites to help inform and more deeply engage their readers through the power pictures and storytelling.
"The Trover community is inspiring, and their photos offer hotel guests a visual gallery of activities and entertainment options in proximity to a hotel," said Forest Key, CEO and founder of buuteeq. "With Trover widgets, hotels can add authentic, on-the-ground content that really highlights the best of an area to prospective guests visiting buuteeq powered hotel websites."
The three widgets include the Trover Location Widget, Trover List Widget and Trover Profile Widget:

Trover Location Widget makes it easy for any destination-oriented website or blog to showcase original, geo-targeted, curated photos based on a proximity to a city, street address or neighborhood. With Trover's unique capability to zero in and record exact photo locations, websites can easily use the Trover Nearby Widget to offer their readers a immersive, authentic photo-guide of the best places to explore near any location, whether at popular venues or more specific and remote locations. For example, the Maui Coast Hotel uses Trover on their website to help visitors see great things to do on a trip to Maui. In addition, a blogger writing a post about what to explore during a summer vacation to Yellowstone National Park could use the Trover Location Widget to highlight stunning images of things to do and see while visiting the park.
Trover List Widget offers a unique way for blogs and websites to more deeply engage their readers through high quality images that showcase personal interests, favorite places or specific adventures. The Trover List Widget allows blogs and websites to immediately tap into hundreds of thousands of images to help tell a visual story. For example, if a food blogger wanted to publish a list of top Seattle restaurants, they could use the Trover List Widget to embed a user-generated list on their site such as My Favorite Seattle Restaurants. A website could also embed popular lists created by Trover, like the inspirational "What's Hot List."
Trover Profile Widget is perfect for helping travel, food and local bloggers publish their personal discoveries. Used in conjunction with the Trover app, the Profile Widget provides an instant, seamless way to publish photos, tips and map details directly from the field. For example, Liz Young of YoungAdventuress uses the Trover Profile Widget to display her travel images on her own blog and encourage readers to follow her on Trover where she has documented her travels across eights countries so far.
"Our new widgets help our members reach larger audiences, and also help websites of all stripes to tell authentic visual stories about thousands of destinations, cities and neighborhoods," said Jason Karas, co-founder and CEO of Trover. "We've had some great results with Bing Travel and buuteeq, and are excited to take what we've learned to help bloggers everywhere provide geo-based visual guides that showcase the best nearby attractions, hidden gems, and cool things to do worldwide."
About Trover
Trover is a visual guide to the best of everywhere, powered by travel geeks and culture hounds, gut-checked by peers, and lusted after by aspirational newbies. Accessible via the web and an iPhone app, it's a community for people to share their photos, get recognition for their discoveries, and find inspiration for their next jaunt. The hundreds of thousands of beautiful, annotated photos posted on Trover span 175 countries and represent experiences as varied as zip lining in Singapore, flea markets in Brooklyn and cocktails in Kyrgyzstan. Trover is a private company funded by Concur, Benchmark Capital, General Catalyst Partners, and Ignition Partners, with offices located in Seattle, WA. Trover was founded by experienced entrepreneurs, Jason Karas, CEO with a background in social and mobile technologies and Rich Barton, who founded Expedia.com and co-founded Zillow. For more information, visit http://www.trover.com or follow on Facebook.
Trover and their respective logos are trademarks, registered trademarks, or service marks of Trover. Other products and company names mentioned are the trademarks of their respective owners.