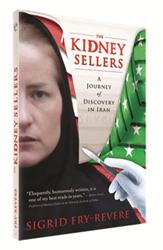 Humanity transcends culture.
Washington, D.C. (PRWEB) February 27, 2014
This week, Carolina Academic Press releases a book that is the culmination of six years of study and nearly two months of field observations in Iran. The Kidney Sellers by Sigrid Fry-Revere, J.D., Ph.D. provides never before documented observations of how kidney sellers see themselves and their sacrifice, in the one country in the world that has solved its kidney shortage.
Between 20 and 30 Americans die every day because there are not enough kidney donors in the United States. In most regions of Iran there is a waiting list of people who want to donate. The Kidney Sellers: A Journey of Discovery in Iran (Carolina Academic Press, 2014) explains how this is possible, and explores whether there is anything to be learned from the Iranian system which could help ease the U.S. organ shortage while protecting the rights of donors.
Robert Veatch, Ph.D., Professor of Medical Ethics at the Kennedy Institute of Ethics and Fellow of the Hastings Center states: "Sigrid Fry-Revere has given us an amazing, courageous, provocative, even dangerous look at the complex and generally successful system of selling/donation that has solved the kidney supply problem in Iran. Eloquently, humorously written, it is one of my best reads in years–fascinating to anyone who loves a good travel adventure story, but essential for anyone interested in overcoming the organ transplant problem that costs thousands of lives each year."
For more information visit the book page at http://www.thekidneysellers.com or contact the author at aristotlespride(at)mac(dot)com or the publisher through Beth Hall at bhall(at)cap-press(dot)com.