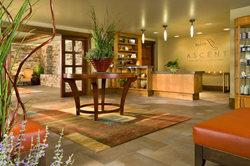 Fish Camp, CA (PRWEB) February 26, 2014
As spring breathes new life through Yosemite National Park, guests of the all-new Yosemite Healthy Living Retreat at Tenaya Lodge will travel their own path to renewal through a comprehensive wellness retreat at one of the world's leading wellness resorts.
Planned for Fri., Mar. 28 through Sun., Mar. 30; the retreat invites everyone from curious beginners to nutrition and fitness experts to escape the everyday and treat themselves to a whole person experience that reaches far beyond the typical wellness getaway. Guests will participate in outdoor activities, a hands-on cooking class and dinner with Executive Chef Frederick Clabaugh and interactive sessions with keynote speaker Jen Ator, certified strength and conditioning specialist and senior fitness editor of Women's Health magazine; Alexandra Williams, MA and Kymberly Williams-Evans, MA, award-winning speakers and Fun and Fit bloggers; Chado-En Tea Docents, focused on the depth and artistry of tea and Kimberly Parry, founder of Kimberly Parry Organics, a USDA certified organic line of luxurious beauty and skincare products. The expert panel of guest speakers will lead attendees through classes on posture and how it impacts health and fitness, organic personal care products, a lively "Drums Alive!" fitness class and more. Despite a robust schedule, time for relaxation is on the agenda – guests will also have the opportunity to indulge in treatments at Tenaya's Double Silver LEED-certified Ascent Spa and take home some incredible gifts.
On Mar. 28, arriving retreaters will be welcomed with a reception to get acquainted and try some of Chef Clabaugh's health-conscious dishes. In addition to organic teas and water infusions, guests can enjoy bites including Pad Thai noodles with shrimp, Dungeness crab and corn soup with fresh herbs, coriander-crusted scallops with chive and potato hash and Asian Box Salad with spinach, red quinoa and sherry vinaigrette.
When the sun rises on the first morning of the retreat, attendees will get their hearts pumping with a morning exercise program and fuel up with a signature "Stay Fit" continental breakfast, followed by guest speaker sessions, a nutrition break and a guided nature hike. After a healthy fireside lunch, guests will prepare for an afternoon of signature treatments at Ascent. Spa visitors will have the option to choose between a custom facial, massage or body scrub with Ascent's expert team. When dinnertime draws near, attendees will join Chef Clabaugh in an interactive cooking class, which will take them through healthy recipes from appetizer to dessert. Between courses, Jen Ator will take the stage to debunk common workout myths, provide take-home tips for easier and more effective workouts and answer guest questions. The night will wrap up with star gazing, flambé coffee and truffles on Tenaya's beautiful outdoor terrace.
On Sunday morning, guests will wake up to another morning exercise program and "Stay Fit" breakfast and move on to a final "Drums Alive!" session with Fun and Fit to send retreaters on their way energized and uplifted. By mid-afternoon, attendees will be free to explore more of Tenaya's activities, explore Yosemite National Park or even revisit Ascent for a la carte services.
Weekend packages for the Yosemite Healthy Living Retreat start at $999 for double occupancy rooms and $699 for single occupancy. Meals, sessions and Saturday spa treatments are included in the price of the retreat for all guests.
To learn more about and register for the Yosemite Healthy Living Retreat, visit TenayaLodge.com/YosemiteHealthyLiving.
About Tenaya Lodge at Yosemite
Tenaya Lodge at Yosemite is an all-season resort framed by noble evergreen forest and a rich range of Sierra recreation. The lodge, set adjacent to Yosemite National Park's South Gate at an elevation of 5,288 feet, offers 302 rooms, suites and mountain cottage accommodations. Tenaya Lodge offers easy access to Yosemite's iconic attractions and many guests savor the alpine serenity of the new Ascent Spa at Tenaya Lodge. Resort dining options run the table from casual to candlelit at Sierra, Jackalope's, Timberloft and Embers restaurants. For more information, visit TenayaLodge.com.
About Delaware North Companies Parks & Resorts
Delaware North Companies Parks & Resorts is an industry leader providing Stewardship and Hospitality in Special PlacesSM with hotel, retail, food service, recreation and transportation operations at historic and scenic properties in North America and Australia. The company operates Kennedy Space Center Visitor Complex and in Yellowstone, Grand Canyon, Sequoia and Yosemite national parks, including The Ahwahnee and other Yosemite lodges; Tenaya Lodge at Yosemite & the Cottages at Tenaya Lodge; Harrison Hot Springs Resort & Spa in British Columbia; Niagara Falls State Park; The Lodge at Geneva-on-the-Lake in Ohio; Gideon Putnam Resort in Saratoga; Holiday Inn West Yellowstone, Gray Wolf Inn & Suites and Yellowstone Park Hotel. The company also owns and operates five luxury resorts in Australia: Lizard Island Resort, Heron Island Resort, Wilson Island Resort, Kings Canyon Resort and El Questro Homestead and Wilderness Park. To learn more about Delaware North Companies' hospitality management expertise, visit http://www.experiencednc.com.