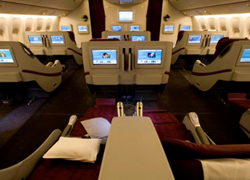 Qatar's merger with One World Alliance has the advantage of becoming part of the fastest growing alliance in 16 years which flies to over 150 countries and over 14,000 routes.
San Bruno, CA (PRWEB) March 17, 2014
IFlyBusiness is now offering discounted business class seats on Qatar Airways starting at $4050 depending on the destination.
With the increase of leisure and business travel to the Middle East, many large cities such as Doha, Dubai and Abu Dhabi are hosting International conferences, and producing large architectural projects to encourage more travelers to the Middle East and Gulf region. Doha, for example, will host a two day conference this year focusing on hotel developments and current business and tourist trends because of this increase.
Doha, the capital city of Qatar and main hub for Qatar Airways now offers more available gates to Europe and Australia. Qatar's routes to London Heathrow also increased from 35 to 42 routes per week this year. In addition, Qatar's strategic agreement with Cathay Pacific means flights from Doha and Hong Kong will occur once a day beginning in March, 2014. Business and first class amenities will also be shared between the two airlines which will aim at improving customer satisfaction for a more pleasant flying experience.
Other new routes from Doha include:
Sharjah (UAE) from March 1;
Dubai World Central (UAE) from March 1;
Philadelphia (USA) from April 2;
Larnaca (Cyprus) from April 29;
Istanbul Sabiha Gokcen Airport (Turkey) from May 22;
Edinburgh (Scotland) from May 28;
Miami (USA) from June 10 and Dallas/Fort Worth (USA)
from July 1.
Rated one of the world's best airlines by Skytrax, Qatar Airways business class cabins are luxurious, spacious and private. Business class lie flats seats and accompanying ottoman were crafted and rigorously tested by over 100 suppliers to be the best in the industry. Ample storage, a large workspace, and wireless internet are also available for business and personal needs. Five star cuisines and fine wines were specifically paired for an extraordinary dining experience. Moreover, Qatar's Oryx entertainment program consists of over 1000 movies, shows, games and music options so business class travel is more relaxing and enjoyable. On October 30, 2013 Qatar joined the One World Alliance, which is now part of the fastest growing alliance in 16 years and flies to over 150 countries and over 14,000 routes.
About Us:
IFlyBusiness offers executive travelers the luxury of upgraded flight amenities without the inflated cost. How? IFlyBusiness has contracts with most major airlines to ensure heavily discounted airfares for first and business class passengers. Whether you're booking travel round trip, one way or around the world, IFlyBusiness travel consultants are there to support you all the way. They have the most up-to-date access to changing airfares, making discounted business and first class tickets available for you first. Maximum flexibility allows you to be spontaneous, because we know plans change. We make sure you still get the best rates, even when you alter your itinerary on the fly.